Guests' Comments

We've been privileged to welcome guests from no less than 47 different countries (see bottom of page for details).

From the beginning we advertised on the Homelidays site where they featured "testimonials" from guests they introduced to us. They very carefully controlled such comments to make it extremely difficult for us to get others to submit false recommendations. "27 renters out of 27 recommend this rental to a friend." A few years ago the company moved our listing to HomeAway who proved to be totally inflexible and greedy. After many disagreements they chose to remove our listing so, sorry, you can no longer see those reviews on an independent site. They are, though, reproduced below.

More recently we've also listed on Airbnb and on the TripAdvisor site where "100% of guests would stay again." TripAdvisor awarded us a Certificate of Excellence. From early 2017 we have also listed on Booking.com who reward us every year with awards for excellent service, the latest being a customer satisfaction score of no less than 97%, calculated from guest ratings of six separate categories.

We've included all 140 reviews on this page. WE CONFIRM THAT EVERY SINGLE ONE IS GENUINE! There has been just one bad one, in Dutch, and it was factually incorrect. There have been none that we might have been tempted to edit out! Some reviews have been translated by Booking.com from the guests' native languages.

A very big thank you to all of our guests who took the time and trouble to submit reviews, especially for their very kind words.

Booking.com – Anne from Norway – July 2023 - 100%

"We had a wonderful stay at Villa Verde and can highly recommend it!"

It is very centrally located, close to the beach, restaurants and the shopping area. The room was clean and had everything we needed during our stay. What makes the place extra special are the wonderful hosts, Chris and Silvia, who do everything they can to ensure that their guests have a great stay! Transport to and from the airport, bike rental and wine tasting, just to name a few. We will definitely be back!

Booking.com – Georgios from Belgium – June 2023 - 100%

"Ενιωθα πάρα πολύ ωραία, παρόλο που πήγε για διάφορες προσωπικές μου δουλειές."

Η καλοσύνη τους και φαίνεται ότι είναι πάρα πολύ καλοί και ευγενικοί οι άνθρωποι

Booking.com – Joachim from Germany – May 2023 - 100%

"Villa Verde can be recommended without reservation."

Very well maintained and clean property. Silvia and Chris are accommodating hosts.

Booking.com – John from USA – March 2023 - 100%

"Wonderful place, attentive hosts, great location."

This was just an amazing place! The hosts were incredible, provided a wine tasting as well as so many other over the top services!! I can't wait to come back!

Booking.com – Oksana from Ukraine – February 2023 - 100%

"Great place with Amazing people"

Great location, condition of the property is also good. Room is clean, warm, with climate control, contains comfortable bed, fridge, stove, table, chairs — everything you need and even more. Also, there is a patio, which I thought is really great for breakfast or even can be used as a work place :)

Airbnb – Sasha from Germany – September 2022 - 5 star

Chris and Silvia are very hospitable and kind hosts, they really took care of us , brought us fresh fruits every morning. Provided us with bikes and other things which are not automatically expected from the hosts. We had very nice conversations and very cozy atmosphere. The place is very nice, hidden in the garden between trees and close to the beach. Thank you very much!

Booking.com – George from Greece – August 2022 - 100%

Great very clean and functional accommodation congratulations to Mrs. Sylvia

Booking.com – Natalie from Russia – August 2022 - 100%

"A welcoming home where yu feel comfortable"

The hosts Chris and Silvia are very hospitable and responsible people. Everything in the house is in perfect order and apartments, and kitchen equipment and utensils, I was pleased with a comfortable bed with pillows of different sizes (you could choose low or higher), a beautiful view of flowering plants and an orchard. It was also important for me to have a good air conditioner on hot August days. And the villa itself is designed with great comfort for residents. And in the morning Chris treated me to the freshest figs, thanks to him! Sylvia told and showed where and how best to shop. Cute cats complemented the comfort of this beautiful place, calm from the hustle and bustle. The fish tavern and the sea are very close.

Booking.com – Irene from Greece – August 2022 - 90%

"My stay was very pleasant and I felt well taken care of by hosts Chris and Sylvia."

The location was perfect. It was very near to the centre of Nea Makri, yet set in a quiet location. The hosts Chris and Sylvia couldn't have been more helpful and accommodating. The studios are spotlessly clean and well equipped. I cannot think of anything that could have been better.

Booking.com – Irina from Belgium – June 2022 - 100%

"It's like you were at your mother's house after a long time away. You are expected to be greeted and lily."

Everything is fine, we have never received such a service in three stars: wet cleaning every day, comfort and hospitality were at the level of 6 stars. Thank you very much for your hospitality and cordiality.

Airbnb – Heather from USA – April 2022 - 4 star

Chris and Silvia were lovely hosts, and the studio apartment met my needs quite well for a week of rest and relaxation.

Booking.com – Aline from Germany – February 2022 - 100%

The apartment is in a quiet area, but still tavernas, bakers, supermarkets and the beach are within walking distance. It is comfortable and very clean, it is cleaned daily. But these are the landlords Chris and Sylvia, who were very kind and helpful with advice and assistance for us to enjoy our stay as best we could. Breakfast was optional daily. It is a really delicious breakfast with fresh baguette bread, homemade jams, honey and freshly squeezed orange juice as well as coffee and tea. Our daughter's bed was very lovingly made with "Elsa", totally sweet ߤ?. We look forward to a reunion.

Booking.com – Smaragda from Greece – January 2022 - 100%

ΕΞΑΙΡΕΤΙΚΗ ΤΟΠΟΘΕΣΙΑ - ΟΙ ΟΙΚΟΔΕΣΠΟΤΕΣ ΦΙΛΟΞΕΝΟΙ ΕΥΓΕΝΕΣΤΑΤΟΙ ΚΑΙ ΠΑΝΤΑ ΠΡΟΘΥΜΟΙ ΝΑ ΕΞΥΠΗΡΕΤΗΣΟΥΝ - ΑΠΟΛΥΤΗ ΗΣΥΧΙΑ ΠΟΥ ΗΤΑΝ ΚΑΙ ΤΟ ΖΗΤΟΥΜΕΝΟ ΓΙΑ ΕΜΕΝΑ - ΟΛΑ ΤΕΛΕΙΑ - ΟΠΩΣΔΗΠΟΤΕ ΘΑ ΕΠΙΣΤΡΕΨΩ

Airbnb – Iain from UK – January 2022 - 5 star

Tucked away and quite private but a few minutes from the beach, shops and restaurants. Chris and Silvia are excellent hosts and very helpful.

Booking.com – Georgos from Greece – November 2021 - 100%

Excellent

Booking.com – Stefan from Germany – October 2021 - 100%

Perfect

Booking.com – Elena from Russia – October 2021 - 96%

"beautiful accommodation next to the sea"

Very hospitable and caring hosts! House 5 minutes walk from the sea, there are many taverns nearby. In 15 minutes drive there is a huge nature reserve of pine trees with a beautiful sandy (wild) beach!

Booking.com – Aleks from Czech Republic – August 2021 - 100%

Airbnb – Rosella from Italy – August 2021 - 5 star

Very quite accomodation, with a wonderful garden, near the beach.friendly and helpful owners.

Booking.com – Sviatlana from Lithuania – August 2021 - 100%

Everything you might wish for and more. There is literally nothing missing: you have everything from all kind of utensils to repellents to salt, olive oil and oregano to cook you food, to Greek wine you can buy directly from the owner. Hospitality of Silvia and Chris is exceptional. We were taken from the airport and brought to a car rental a couple of days later by Chris, we were given advice on where to go to eat, to swim and what places to visit in the area and beyond. Sandy beaches are further away from the Villa, quite rocky ones are nearby. We had a small terrace outside in the shade and a lot of cat visitors. We enjoyed our stay a lot and are thinking of returning one day.

Booking.com – Mark from UK – August 2021 - 100%

Very friendly and helpful owners. Excellent bathroom and air conditioning. Owner picked us up and left us to the airport.

Booking.com – Guillaume from Netherlands – August 2021 - 96%

Located on the ground floor with private terrace and access to the beautiful green garden. Within walking distance of restaurants and the beach. Owners very friendly and helpful (go to the supermarket!!)

Booking.com – Ewelina from Poland – August 2021 - 100%

Booking.com – Eleftheria from Greece – August 2021 - 100%

Booking.com – Patricia from Netherlands – July 2021 - 100%

The breakfast was fantastic the owner Chris and his wife Silvia ♪ are great ♪ ♪ Nothing's too much ♪ ♪ Nowhere in Greece ♪ It was great

(Covid closure)

Booking.com – Karin from Austria – August 2020 - 96%

Very friendly hosts who take care of everything very touching. I have never experienced this kind of thing before. There were fresh figs every day... Very nice well-kept garden

Booking.com – Roeland from Belgium – August 2020 - 100%

Booking.com – Galina from Lithuania – July 2020 - 96%

Хорошее место, тихо, спокойно, близко к пляжам. Ухоженная обстановка, чистота и порядок. Мне понравилось гостеприимство хозяев.Трансфер. Рядом с тавернами.

Booking.com – Liudmila from Russia – October 2019 - 100%

"Чистота! Тишина! Уют! Красота! Все необходимое под рукой! И теплое море поблизости!"

Booking.com – Tom from Denmark – October 2019 - 100%

Booking.com – Inna from Finland – September 2019 - 100%

"Душевный спокойный отдых!"

Booking.com – Liza from UK – September 2019 - 100%

"Great clean facilities, with friendly and very helpful owner"

Booking.com – Ciuca from Romania – August 2019 - 100%

"Cea mai buna alegere!"

Booking.com – Sergey from Poland – July 2019 - 100%

"Хочется вернуться и каждый раз советовать своим знакомым и друзьям! Самуил Абрамович бесподобен!"

Booking.com – Radbout from Netherlands – June 2019 - 79%

Booking.com – Klaus from Germany – June 2019 - 92%

Booking.com – Vlatko from North Macedonia – May 2019 - 100%

Booking.com – Jerome from France – May 2019 - 100%

"Un agréable moment dans un cadre calme avec un très bon rapport qualité prix"

Booking.com – Stefan from Bulgaria – April 2019 - 100%

"Ми відпочивали 4доби великою родиною( троє дорослих та четверо дітей) у Сільвії з Крісом.Вразиза щирість та гостинність господарів. Приїхали наче до батьків на свята! Дуже світлі , охайні,неймовірно чисті ,укомплектовані номера. Є все необхідне для комфортного проживання родини з дітками. Господарі зустріли нас в аеропотру вночі. Неодноразово пригощали нас дуже смачним обідом та вечерею. За нашим проханням супроводжували за покупками. Велике спасибі господарям за такий прийом,ми приїдемо до Вас наступного року."

Booking.com – Liubov from Ukraine – April 2019 - 100%

"Amazing garden, very clean and tidy place!!!"

Booking.com – Aziza from Belgium – April 2019 - 100%

Booking.com – Dieter from Germany – April 2019 - 75%

Booking.com – Wolfgang from Germany – April 2019 - 100%

"Komfortables Appartement, schöner Garten mit Terrasse, bester Service: +++++TOP+++++"

Booking.com – Doris from Italy – October 2018 - 96%

Booking.com – Oxana from Russia – July 2018 - 96%

"Мы отлично провели свой отпуск на очень ухоженной и зеленой вилле с замечательным хозяевами!"

Тихий не туристический и очень зелёный городок. Близость к Афинам. Гостеприимство хозяев, Криса и Сильвии и конечно общение с замечательными пушистыми друзьями, один из них - Самуил Абрамович, яркий представитель кошачьего семейства. Было приятно, что нас встретили в аэропорту с табличкой, по приезду отвезли в супермаркет и на протяжении отдыха баловали ненавязчивым вниманием. Трансфер туда и обратно, а также поездка в супермаркет были бонусом от хозяев. В номере есть все необходимое для приготовления и даже духовка, тостер и соковыжималка. Информационная папка, которая есть в номере и советы хозяев помогали планировать перемещения и отдых!

15 минут до хорошего пляжа может быть ограничением для семей с маленькими детьми при отсутствии машины. Для нас это не являлось проблемой.

Booking.com – Nicolae from Romania – July 2018 - 92%

"Grecia, este fantastică!"

Mulțumim gazdelor pentru ospitalitate. Este o zonă liniștită, plină de verdeață. La plajă ajungeți în 4-5 min. Gazdele vorbesc engleza (Cris) și rusa, ucraineana, un pic, româna (Silvia). Vă mulțumim!

Booking.com – Oxana from Ukraine – July 2018 - 100%

"Мы в восторге! Отличные апартаменты, сервис. Комфортное проживание и приятная атмосфера!"

Нам очень понравилось! Отличные апартаменты и очень хорошие владельцы. В апартаментах есть все необходимое, чисто и комфортно. Прекрасный сервис. Тихо, уютно, красивый сад, поют птицы, слышно море. Хорошое расположение: море близко, неподалеку продуктовые магазины, транспорт. Крис и Сильвия очень позитивные и приятные люди. Мы рады знакомству с ними! Хочется вернуться сюда снова!

Booking.com – Markku from Finland – May 2018 - 96%

"Kiva loma mukavassa majoituspaikassa."

Chris ja Silvia olivat avuliaita ja mukavia ihmisiä. Tulopäivänä Silvia kyyditsi meitä kaupoilla ja samalla tuli pieni esittelykierros Nea Makrin kaupungista. Myöhemmin viikolla Chris ajelutti meitä katselemaan paikan eri nähtävyyksiä. Ja erittäin edullisesti.

Booking.com – Eva from Sweden – May 2018 - 100%

Booking.com – George from Germany – April 2018 - 100%

Booking.com – Dmitrij from Romania – December 2017 - 75%

Внимательные и добродушные хозяева. Отличная система отопления. Чистота.

Booking.com – Anonymous – November 2017 - 100%

Booking.com – Ronaldo from Brazil – November 2017 - 100%

"Muito bem atendido, nota 10"

Booking.com – Regina from Estonia – October 2017 - 100%

Booking.com – Prasanna from India – October 2017 - 96%

"Excellent Property with Excellent host."

Host was execellant.we enjoyed the stay. Nearby beach is excellent.Good garden and pet cats.Property is at a distance of more than 20 km from Athens (ATH) airport but property gives free Airport shuttle so there is no problem.You must inform the host your flight details before you arrival. I would love to go to the property again. Nearby good seafood restaurants. Over all good for long stay from seven to fifteen days.

TripAdvisor – Liza from USA – September 2017

"Beautiful, Relaxing Retreat "

The best thing about this place were the hosts, Chris and Silvia! They were so accommodating and gracious! The rooms were spacious and very clean. They had everything needed for a stay, including kitchen implements. My husband and I enjoyed the beautiful garden every morning, with visits from Sammy, one of the several cats that live on the property. We spent our afternoons at the beach, just minutes from the house. There are many local tavernas at which we are, often enjoying the fresh local seafood. For a small fee, Chris will pick you up and return you to the airport. He has a binder in the room that is filled with information about the area. He will also give you a tour of the local sites if you are interested. We are considering sending our girls back for a stay because we so thoroughly enjoyed our time at Villa Verde!

Booking.com – Tatjana from Austria – September 2017 - 79%

Warmherzige , humorvolle und großzügige Villenbesitzern. Legere familiäre Verhältnis . mehrere Lokale in der Umgebung

Bellende Hunde in der Umgebung,steinige Strände,zu wenig oder kaputte Strand-schirme,keine Liegen.

Booking.com – Svetlana from Russia – August 2017 - 100%

Очень дружественная атмосфера. Благодаря тому, что хозяева максимально продумали как исключить даже малейшие проблемы,которые могут возникнуть у приезжающих, отдых был очень комфортным. Очень уютно и спокойно. И очень приятное общение с хозяевами - Крисом и Сальвией. Искренне сказали им спасибо при расставании.

Booking.com – Pete from Romania – August 2017 - 100%

"Vila minunata"

Liniștea și oameni. Chris și Silvia sunt fenomenali. Orice dorești se îndeplinește. Curățenie. Verdeață. Multă. Aproape de mare. De localuri. Perfect. Exista ceva peste superlativ? Dacă da este vila verde

Faptul ca nu mă pot muta acolo? Sau ca vacanta a fost prea scurta? Sau ca -nu este vina proprietarului -pompierii nu te lasă să faci barbeque?

Booking.com – Philippe from Spain – October 2017 - 100%

Booking.com – Luc from France – July 2017 - 83%

Excellent accueil

Booking.com – Anonymous – July 2017 - 100%

TripAdvisor – Ed from Canada – July 2017

"A beautiful place to stay..."

Myself and my wife stayed at the Villa Verde for a week in mid June. What a wonderful place it was. Chris and Silvia are great hosts, and the apartments are cleaned every day and kept spotlessly clean. The garden is beautiful and the house is minutes from the beach. For a small fee Chris took us on a 6 hour tour of all the interesting areas near by. There was cooking facilities in the room which made it convenient to cook the occasional meal and then eat outside on the patio. I highly recommend Villa Verde and the town of Nea Makri. Thanks again Silvia and Chris.

Booking.com – Aliaksandr from Belarus – June 2017 - 100%

Airbnb – Yury from Belarus – July 2017

Свой отзыв об отдыхе у Криса и Сильвии хочу начать с благодарности хозяевам за их гостеприимство и профессионализм! Отдыхали с семьей в июле 2017 две недели. Вилла Верде расположена в тупиковой улице в отдалении от небольшой дороги, что обеспечивает тишину. В распоряжении всех гостей виллы имеется превосходный зеленый и очень ухоженный сад. Апартаменты просторные с хорошей качественной отделкой, в доме налажена отличная система кондиционирования и подачи воды, WI-FI работает отлично. Кровати с ортопедическими матрасами и хорошим постельным бельем, что обеспечивает хороший сон. Кухня оборудована всем необходимым для комфортного приготовления пищи, если это необходимо. Для гостей имеется большое количество информации о различных аспектах пребывания не только в Неа Макри, но и о Греции в целом, от достопримечательностей до расписания работы магазинов и движения транспорта. Крис и Сильвия в подробностях расскажут вам о самых вкусных и полезных местах их зеленого городка, а также по прибытии покажут окрестности, прокатив по Неа Макри на своей машине. Ближайший пляж, маленький и чистый, находится в пяти минутах от виллы, а в 15 километрах, за рощей с пиниями, чудесный, широкий и протяженный пляж Схинияс с белым песком, в будние дни практически пустынный. Неа Макри тихий городок, который хорошо подходит для отдыха с детьми, а также для тех, кто устал от шума больших городов. Однако, любителям отдохнуть активно тоже не придется скучать, здесь есть множество баров, клуб дайвинга. До Афин и их красот, которые не нуждаются в представлении, расстояние небольшое, что позволяет отдых сделать очень разнообразным. Одним словом, Греция очаровала нас вновь, на этот раз зеленой жемчужиной Неа Макри виллой Верде! Обязательно вернемся!

Booking.com – Alexis from USA – June 2017 - 88%

"Not your typical Greek place, nice over all"

Clean, friendly, quiet, safe.

Booking.com – Giuseppe from Italy – June 2017 - 96%

"Ottima posizione per soggiorno mare e per escursioni ad Atene"

I proprietari veramente gentili, sempre pronti a soddisfare ogni bisogno. Camera pulita ogni giorno , con tutto il necessario per la cucina.

Booking.com – Maria from Greece – June 2017 - 100%

Υπέροχος κήπος, ευγενείς οικοδεσπότες

Airbnb – Alla from Russia – June 2017

Отличная студия. Есть все необходимое и еще всякие нужные мелочи. Все очень чисто и комфортно. Крис и Сильвия прекрасные хозяева, очень радушные и гостеприимные. Всегда готовы помочь в любом вопросе. Сильвия говорит по-русски, а Крис по-английски и гречески. Всем рекомендую это место! Желаю Крису и Сильвии успехов и процветания!!!

Booking.com – John from the UK – April 2017 - 100%

"Warm Welcome at Villa Verde, Nea Makri"

Our hosts, Chris and Silvia are the nicest, most considerate people and they literally go out of their way to make staying with them a positive experience. I had mentioned in an email and when we arrived that I would go to the local bakery for croissants on the first morning. Chris got there before me and brought some back. As our first day was a Friday, Chris and Silvia invited us to the weekly lunch they have with friends at the nearby Koralli restaurant. Great food and good company! Although the villa is self-catering Silvia told us that if we want a meal with Sea Bream or similar she would cook the fish for us. Before confirming our booking by email, the subject of cats was brought up as there are cats in the gardens of the villa and this may be a problem if a potential guest has an allergy. They were not an issue for us and did not intrude in any way. Cat-lovers would be delighted! The villa is in a quiet cul-de-sac within a few minutes walk of the beach where there are 3 restaurants; 10 minutes walk brings you to the marina where there are many more places to eat or to the main road, Leof. Marathonas, where there are shops. Kasimis is the bakery mentioned and besides the bread products they have an impressive range of cakes, pastries and biscuits. All this is detailed in the information pack provided at the villa, including a map that shows you where they are. We will definitely return!

TripAdvisor – Sarah from Canada – April 2017

"Wonderful experience!"

Villa verde proved to be an excellent location from which to take day trips- Athens, Corinth, Mycenae etc. It was spotlessly clean and has such a beautiful garden. Our hosts were so helpful - they really went above and beyond in helping us out and were the reason we had such a good time- Chris knows all the local secrets and has great advice. We are travelling with our young kids and they lent us beach toys and games etc. Lovely people! We will be back!

Airbnb – Olga from Belarus – July 2016

Недавно вернулись с сыном из отпуска, который провели в Неа Макри в доме Криса и Сильвии и хочу поделиться впечатлениями. Крис встретил нас в аэропорту и через 20-30 минут мы уже были на вилле. Вилла полностью соответствует описанию. Отдельные уютные апартаменты, которые оборудованы всем необходимым для отдыха. Выход из комнаты в прекрасный, цветущий сад. По приезду, Крис отвез нас по магазинам, чтобы мы приобрели то что нам нужно, показал и рассказал что и где можно купить по лучшей цене и качеству. Так что далее было очень легко ориентироваться. Небольшой пляж находиться совсем рядом и там же несколько уютных кафе, где вкусно готовят и очень большие порции. Немного подальше находятся несколько больших, хорошо оборудованных, песчаных пляжей. В 7-10 минутах ходьбы находиться автобусная остановка, так что без проблем можно добраться до близлежащих городов: Марафон, Рафина, а также до Афин. Для организации самостоятельного досуга в каждой комнате на вилле предусмотрена информационная папка, в которой очень подробно изложена информация о достопримечательностях, расположенных поблизости и не только, как добраться, сколько стоит, время работы. Также приложены подробные карты Афин, Неа Макри, которые нам очень помогли в нашем путешествии. Расписание автобусов и еще много полезной информации. Если все же какие-то вопросы остаются, то всегда можно обратиться к гостеприимным хозяевам виллы. Также мы воспользовались возможностью взять велосипеды и совершили прекрасную прогулку по окрестностям Неа Макри. Неа Макри зеленый, красивый, спокойный город, который прекрасно подходит для самого разнообразного отдыха, как для отдыха с разносторонней культурной программой, активного отдыха, так и для спокойного семейного отдыха с детьми. Мы провели всего неделю в Греции, но впечатления остались самые положительные. Так же хочу еще раз отметить внимательное отношение к с своим гостям Криса (во время нашего пребывания в Греции, Сильвия была в отъезде), теплую уютную атмосферу, чистоту и прекрасный сад Виллы Верде!!! Спасибо Вам большое! Желаю успехов и процветания!!!!

TripAdvisor – John from New Zealand – April 2016

"Great hosts, great place to stay"

We spent 3 wonderful weeks in April at Villa Verde, as guests of Chris and Sylvia who made our stay comfortable, trouble-free and very relaxing. They were always ready to help and went far out of their way to ensure we had everything we needed. It began with Chris picking us up at the airport and ended with him driving us back there. In between he took us to the supermarket and cash machine, the fantastic nearby pastry shop, printed ongoing airline tickets and he and Sylvia invited us to the special Easter dinner at their local restaurant. After I'd twice found the Marathon museum closed I thought I'd missed out. But on our last morning he took the time to drive me there and waited for more than an hour for me to explore it. Meanwhile Sylvia was always there to make sure the apartment was spotless and well equipped. The studio itself wasn't large but comfortable and it was a pleasure to sit in the sunshine on the patio beside Sylvia's beautiful garden. It made us feel we were staying with friends rather than in a guest house.
I must add that Chris has an amazing knowledge of Greece that makes planning trips around the ancient sites and places of interest totally hassle-free. The bikes provided at the villa also allowed us to explore the town, seafront and places like the Marathon tumulus. It's an easy bus ride into Athens (on the way back we found it better to catch it at the central bus terminus rather than further on at a Metro stop, because it tended to be crowded by that stage). So it was a pleasure to come back to Villa Verde after the crowds of Athens. Thanks, Chris and Sylvia, for all the time and effort you took to make our Greek trip so worthwhile.

TripAdvisor – Ahsan from the UK – March 2016

"Excellent location and fantastic host"

The property is ideally located both from the central Athens and the airport. We stayed nine days at Villa Verde which is very close from the sea and all the amenities are stone throw distance. We have traveled as a family about 25 countries around the world so we always careful we pick up the right property. We hired a car from the airport which is not essential because we wanted to visit many places with our two young children aged 8 and 11 years old. We went to central Athens which is about 45 minutes drive for acropolis museum, acropolis etc. We also went Mateora and stayed one night and on the way back we stopped in Delphi. We also visited Corinth castle, Corinth Canal, Marathon museum, Marathon dam and many other places. Chris and Sylvia are such an excellent hosts and we felt like from home to home. Each individual studios has everything you can think of and we found even toilet tissues, mineral water upon our arrival. We simply could not ask anything more from them and we will be pleased to back in the future.

TripAdvisor – Richard from the USA – March 2016

"Great place, great host"

We stayed a week - the apartment was clean, had a simple kitchen and herbs growing in the garden. Chris was helpful. We'd stay there again if returning to Athens area. We had a car - the seaside village and surrounding areas are best seen w/ a car. The apt. is in easy walking distance to several restaurants, bakery and the like - once a week there's a large local market, we bought local produce.

Holiday Lettings – Eileen from the Republic of Ireland – November 2015

"Perfect!"

We stayed in Villa Verde for two weeks in November and it was excellent. Our host Chris (Sylvia was away) could not do enough for us from collecting us from the airport, taking us to get supplies the first night and giving us a whistle stop tour of the town. He also was kind enough to take us on a tour of some of the sights round Nea Makri including Marathon one day. To top an excellent holiday he also dropped us to Athens airport at 5am for our early flight home! Outstanding service. There was a folder in the apartment with up to date details of public transport and ferries in the area. We were very lucky with the weather with temperatures ranging from 18deg to 25deg incredible for November. We spent a lot of time relaxing in the lovely garden reading. We ate our meals outside when it was warm enough. The little kitchen area was well stocked with pots, pans, implements making it a pleasure to cook which we did most days. There is an excellent bakery and fruit & vegetable shop about 10 mins walk from the apartment. Chris recommended some local restaurants and again his help was invaluable. All in all excellent place for a relaxing holiday. We will be returning The room was very comfortable with everything finished to a high standard.

Airbnb – Medina from New Zealand – September 2015

this was my first time using air bnb and both Sylvia and chris were perfect hosts they will go out of their way for you to make sure not only your stay is pleaant but your time spent in greece. I recommend this place its peaceful and clean I would definitely come back to stay again if the time permits. thanks guys.

Holiday Lettings – Marie from France – August 2015

"Great hosts, great place"

The place is a very well looked after and maintained villa, with several studios for rent. They share a very nice lawn, and the whole thing is about 100m from the nearest beach and 10mn walk distance to the centre of Nea Makri, which boasts great tavernas and bars.
I highly recommand. The hosts are taking great care of the place, looking after your needs, whilst being very discreet at the same time.

Holiday Lettings – Shaun from the UK – July 2015

"Fabulous people/service"

firstly, from the moment you arrive chris is there to meet you and show you everything, in the appartment chris and sylvia have put together a very large information booklet with maps and everything you need to know about the area from the best local restaurants to post office and police station if needed and if there is something not there just ask chris he will gladly assist and show you everything you want to see you could not wish for nicer hosts.
Secondly Sylvia keeps the most beautiful gardens around the place and i always so friendly, she keeps the rooms so clean nothing is too much trouble for her, chris and Sylvia together make the perfect hosts and I would recommend them and the area to there place for if you want a worry free holiday and we will definitely be going back next year.

Holiday Lettings – Peter from the UK – June 2015

"A wonderful relaxing place to stay"

We recently spent a wonderful week staying with Chris and Sylvie at Villa Verde. The studio was comfortable and immaculately clean. Comfortable beds and adeqaute facilities. Apart from the local dogs barking (which seems to be a feature of Greece) it was so peaceful. A short, pleasant walk into town provides Cafes, Bars and the local beach. We also found another lovely beach about a mile away from Nea Makri. A car would be necssary for further exploration and there is plenty to see. The village itself is a quiet place mostly used by locals, except for weekends when the Athenians descend upon the place in hordes. It was so nice to spend a week where we were virtually the only tourists. Chris was unbelievably helpful, picking us up from the airport, taking us to the supermarket and showing us around. Sylivie tends the lovely garden, cleans every day and constantly worries about the cats, to whom they have given a home. It really felt like Home from home. We will be back !

TripAdvisor – Colleen from the USA – Jun 2015

My husband and I just spent a week at Villa Verde. I do a lot of research before going on vacation to make sure that the experience goes as well as it possibly can. The reviews of this place were all positive and they were very accurate. This is by far the best host that we have stayed with, and we travel frequently. This is not the place for party animals, but if you want a restful vacation with very nice and knowledgeable people who go out of their way to make your stay pleasant, then you've found the right place.
Chris and Sylvia are very conscientious and Chris is a wealth of information about the area. He speaks Greek and assists with everything you need, from transportation from and to the airport to a tour of the locality with a history lesson to boot. Sylvia checks in to make sure that everything is to your liking and if there is something you need that they don't have they will get it for you. Thank you Chris and Sylvia for a great time and we will definitely be back.

Holiday Lettings – Charlotte from the Netherlands – June 2015

"Sympathiek maar krap"

de kamer is superklein en bevat 2 ijzeren bedden met een paar stangen waarop een oude matras.
Alles is aanwezig zelfs nog een uitklaptafeltje en 2 stoelen en een piepklein aanrechtje.
Goede doucheruimte en horren!
Buiten zitten is geen feest: teveel zon, te veel vliegen en vooral blaffende honden!
Chris is superattent en Sylvia wast iedere dag de handdoeken uit(!)
Nea Makri is een ramp, veel te druk.

Alle huizen zijn superbeveiligd daar!
Veel restaurantjes, weinig gasten

Holiday Lettings – David from Germany – May 2015

"Perfect location and amazing hosts!"

My girlfriend and I (in our mid 20's, from Germany) stayed with Chris and Silvia for a week in May 2015, and it was an absolutely amazing time. Their rooms are homely, spacious, clean and astonishingly (!) well equipped, their truly green Villa Verde is well located in Nea Makri very close to nice beaches and only about 3/4 of an hour bus ride to Athens. Chris and Silvia are the perfect hosts, welcoming and helpful, with lots of information on literally everything, most importantly of course on what to do and where to go for great and affordable food! Stupidly enough we had forgotten sunscreen - they lend us some. We wanted to explore the region by bikes - they had some for us. And so on. I find that, in order to make a vacation really good, it is very important to have people/locals who have a lot of experience and who know their way around and are willing to give you exactly the tips and information you need to make it the holiday you want it to be. In that respect, Chris and Silvia are just perfect and they made sure that we had an amazing time in Greece. We do not yet know when, but we will definitely come back!

Airbnb – Bernadett from Hungary – May 2015

Chris és Szilvia nagyon kedvesek voltak, hamar reagáltak a foglalásunkra. Chris bevitt minket este a reptérről és nagyon részletesen tájékoztatott a helyi látnivalókról. A ház és a szoba tágas és átlagon felül tiszta, a kert gyönyörű. A bicikli, amit kaptunk, hosszútávon nagyon kényelmetlen, de csak ennyi negatívumot tudunk írni, a vendéglátás kiváló volt. A várost és a partszakaszt leginkább főszezonban ajánlanánk.

TripAdvisor – John from the UK – May 2015

"Terrific accommodation, pleasant rural location and outstanding hosts"

My Wife, Daughter and I have just had a relaxing 12 night stay at Villa Verde. The owner Chris Feather and his wife Silvia were fist class hosts and very attentive throughout our stay, offering laundry service, transfers to/from airport and even cooking of local bought fish (to avoid the lingering smells in our studio). We were welcomed into the very clean accommodation with complimentary water and wine along with sufficient cooking oil, coffee, sugar etc. The studios (4 available), were very spacious with modern climate control with both heating and air conditioning. The bathroom comprised a walk-in shower and hand basin with never ending hot water and very important to me when abroad, a toilet in which you can flush toilet tissue. The gardens of the Villa are exceptional and full of a variety of colourful plants, flowers, shrubs, bushes and small trees with plenty of space to sunbathe or sit at the patio tables provided with shades - all well kept and nurtured, predominantly by Silvia ;-) . We were supplied with a gate key to facilitate 24/7 access to/from the secured grounds of the property. Chris is very knowledgeable about the local area and kindly offered transport to the local supermarket on the first day to 'stock the larder' with heavy items, pointing out key shops and landmarks along the way. The centre of Nea Makri is only about 800m - but far enough away so as not to carry sounds of the active night life. 500-600m will get you to a local bakery with dairy products located on the main high street along with a myriad of quality shops - not your typical tourist tat. Unfortunately I don't speak Greek but Chris, who is British also speaks a number of languages and helped us with a few key words - I found using Yassas as the first word of a sentence when I first spoke to anyone, went down well with the locals. We were attending my Sons wedding with other family members booked into the other suites so I was able to see that the high standard of accommodation ran throughout all of the property. Although we were focused on the wedding Chris kindly educated us on a lot of the local history - I would say better than the paid tourist guides. All in all a very enjoyable experience and I wouldn't hesitate in recommending Villa Verde to everyone. Thanks Chris and Silvia.

Holiday Lettings – Kristine from the UK – February 2015

"clean, friendly and helpful!"

Owners were really nice, helpful and welcoming! You can ask them anything, they really know a great deal about Greece!
Room was very clean and was cleaned everyday!
Thank You!

TripAdvisor – Bill from the USA – Dec 2014

"The perfect retreat/vacation"

A gift of Chris and Silvia is making you feel welcome. Their attractive villa is located in a quiet, secure neighborhood, and landscaped with a beautiful garden that Silvia designed and maintains. Our room was spotless, well-appointed and exceeded expectations for this two-week retreat/holiday. Chris and Silvia truly do all anyone could ask for, making your stay comfortable and giving assistance with your specific sightseeing interests. We rented a car, however, in a few minutes just walking from the villa, brings you to the sea, a variety of restaurants, local shopping and from there you are able to catch a bus to all the popular tourist sites.
We are grateful to have met and stayed with Chris and Silvia at Villa Verde, it was the perfect retreat/vacation.

TripAdvisor – Volker from Germany – Nov 2014

"Schöne Tage in der Nähe Athens"

Wir waren als Familie 6 Tage bei Chris in Nea Makri zu Gast. Nach kurzemTrip vom nicht weit entfernten Flughafen begrüßte uns Chris herzlich und gab uns die ersten Tipps zu den Supermärkten und Restaurants in unmittelbarer Nähe. Auch in den nächsten Tagen war Chris ein sehr herzlicher, aber nicht aufdringlicher Gastgeber. Er gab uns wertvolle Tips für Ausflüge in die Umgebung, beschrieb uns die beste Anreise für einen Tagestrip nach Athen und begleitete uns am letzten Tag in die Taverne, um für uns beim Wirt etwas Besonderes zu bestellen. Auch die Einheimischen bezeichnen ihn als Freund. Die Zimmer sind sauber, ausreichend groß und es gibt einen schönen Garten, Parkmöglichkeiten für den Mietwagen vor der Tür u.s.w. . Am vorletzten Tag bat mir Chris an, den Online-Check-In vorzunehmen und die Bordkarten auszudrucken. Ein absolut individueller und nicht erwarteter Support. Wir denken gerne an die Tage in Griechenland und an die Herzlichkeit der Gastgeber und Menschen vor Ort zurück. Sehr empfehlenswert.

TripAdvisor – Jo & Adrian from the UK – Nov 2014
"Relaxing, friendly,"
We have just returned from a two week holiday at Villa Verde. I can highly recommend the Villa Verde to anyone wants a true Greek experience while on holiday. The apartments are set in a medium size town just over a hour from Athens. There is a lovely blue flag beach at the far end of the town, and all the locals we meet were very kind and friendly. Chris and Silvia were wonderful hosts, very helpful, Chris helped us sort out a hire car, taking us to the airport to pick it up. Silvia is a lovely lady, she keeps the apartments spotless and is always smiling. Her garden is very pretty.
A visit to Athens is a must do, so much to see and easy to get to (with instructions from Chris) on the local bus and metro.
We will be back!
TripAdvisor – Reina from the Netherlands – Oct 2014
"Very clean place and very friendly and helpful owners"
Nice appartments, cleaned every day, on the ground floor of a beautiful villa, surrounded by a beautiful garden. In walking distance of the beach and about an hour by bus and metro from the center of Athens. The owners are very kind and helpful, which is very welcome when you're travelling alone and don't have a car. They picked me up at the airport, showed me the best places in town and even drove me to an archaelogical site to go see; in other words, did more than enough to make sure I had a convenient time!
Nea Makri is beautiful and an hour from Athens is ok, but with the last bus back going at 10:30, I sometimes wished I had been a bit closer to the center. So if you're looking to go out, you'll need to pay for a taxi back, which will cost you at least 30 euros. Apart from that, this place is superb!
TripAdvisor – Irina from Israel – Oct 2014
"hospitality!"
we enjoyed very much from our vacation
It was wonderful.
The hospitality of Chris and Silvia was outstanding
They helped us to organize our spending time
They ordered the journey to three islands and took care of all little details.
Chris helped me to get gluten free bread and took us to the market
They advised us the best local entertainments and beaches
The rooms are very clean and the location was very convenient
TripAdvisor – Eugen from the Czech Republic – Aug 2014
Booking a last-moment break can be stressful as we all know. But Chris was really helpful and reassuring from the moment we contacted him. The pleasant surprises continued when we arrived there, as the villa looks every bit like in the pictures -- even better, if add up the magnificent scent of the Villa Verde's amazing garden, full of Mediterranean flowers and plants. The room was impeccable, modern, cleverly designed and functional. The whole place was welcoming, and Chris and Sylvia were always around ready to go the extra-mile to make us feel better than at home.
There is wifi internet, but frankly, Chris himself can offer you insight and advice much better and faster than the web. Our only regret was we couldn't spend more time in Greece, and make use of the fantastic hospitality offered by the Feathers. Thanks Chris, thanks Sylvia. We aim to come back, but until then, we highly recommend this strategically located place to anyone who wants a little of everything: close to the wonders of Athens, in the proximity to several beaches (Schineas is magnificent) and adjacent to the beautiful Nea Makri's cozy fishing harbor, where fish tavernas and restaurants offer a splendid choice of foods and drinks.
TripAdvisor – Inger from Sweden – Jul 2014
"Good location, clean, wonderful garden."
Our time at Villa Verde was better than I´ve ever imagined, a green garden with flowers everywhere, a clean studio, nice landlords, a local beach 600 footsteps from the house. Down at the harbour there´s a sandier beach, but the local one is ok. The cats were loved by my daughter, but if you leave them alone they´ll do the same, so there´s no problem if you don´t like cats.
Everything that´s on the website is 100% true and both Chris and Sylvia are very helpful with any questions or requests you might have.
Going to Athens on a daytrip is easy, buses are running every hour and Villa Verde is located 500 meters from a busstop. But don´t forget the wonderful muncipality of Marathon, Chris knows a lot of everything worth knowing about that area, and we can´t thank him enough for bringing us on a little tour around Marathon.
TripAdvisor – Christine from the UK – Jun 2014
"Fantastic Way to Re-visit"
I returned to Nea Makri after 20 years and this time brought my partner to see the sights of Athens and although the town has changed, it was still very familiar. Chris and Sylvia have a beautiful home with fantastic gardens and went out of their way to make our stay wonderful. Chris has an amazing wealth of knowledge of the area which he is more than happy to share. We thoroughly enjoyed our stay and would recommend Villa Verde to anyone thinking of visiting Athens.
TripAdvisor – Bill from the USA – May 2014
"Wonderful stay in Greece"
We stayed with Chris and Sylvia for 12 days early in May and I cannot say enough about how great it was. We chose Villa Verde to have a base from which to travel around the rest of Greece without staying in Athens. It turned out to be the perfect choice.
Chris and Sylvia are very friendly and helpful and the place was beautiful and clean. Chris gave us wonderful advice about what we could do, where we could go, and how to make arrangements. We left wanting to stay longer and do more. Hope we get a chance to go back and stay there again!
TripAdvisor – Susan from the Netherlands – Apr 2014
"Hands down the best stay we had during our vacation in Greece"
Chris and Silvia have nice and quiet studios in a quiet location, and within 5 minutes walking distance of the bakery and 10 minutes to other shops in Nea Makri. It is near Athens, which is very accessible by bus (bus stop at 5 minutes walking). The big advantage of using the bus during weekdays is that you avoid the impossible Athens traffic jams, and not being able to park your car. Within Athens, moving around is easy with the underground.
The rooms are great, Silvia's garden is like a small paradise, and great restaurants are within walking distance.
The undisclosed secret is that Chris speaks several languages, including Greek, and during his long time stay in the area, is like a walking encyclopaedia. Not only was his advice about what is interesting spot-on, he also enabled us to discover spots we would have missed otherwise. He even helped us with phoning Greeks and acting as a translator.
The bottom line is that not only you get a five star accommodation at a great location, you also get a free guide who can really add value to your stay. This makes the value for money you get unsurpassable.
Thanks very much Chris and Sylvia for making our stay so pleasant that we stayed much longer than originally planned!
PS: this is the only place out of all our stays in Greece where wi-fi worked fast and reliable.
HomeAway – Pavel from the Czech Republic – Apr 2014
"Would recommend to anyone"
Well designed house with nice garden. Very friendly owner took us from and to the airport for a very reasonable price, also gave us a lot of good advices. The place had also wi-fi, which wasnt advertised here, so it was even better equipped.
HomeAway – Jane from the UK – Mar 2014
"Well looked after"
The listing description was accurate and the property was clean and well maintained. The gardens were beautifully maintained with a variety of plants and herbs. The owners could not have been more helpful. Chris gave advice on travelling and places to visit while Silvia cleaned the apartment every day, even putting out towels to dry and putting washing up away. The sea was very close, the position of the property was very quiet and the shops were a short walk away. It was easy to get into Athens and there was a variety of ancient monuments near by as well as the lovely beach at Schinias. We enjoyed our visits to Kopali and Christos restaurants very much. We would recommend the property to friends who want a studio apartment, having enjoyed our stay.
HomeAway – Vanessa from the USA – Feb 2014
"Wonderful – will visit again"
My husband found this beautiful rental and started to read the reviews. All the reviews for this place has been wonderful! Experiencing the warm welcoming greeting from Chris and his wife we were so comfortable. We were so excited going to Greece for our first time during my birthday. We stated at this house for a week that felt too short so we are going back in September. Chris was extremely helpful even before we got there through email. He helped us plan our trip to Athens and getting to see the important spots to us in Greece. Our best experience so far with this website. Chris picked us up at the airport as soon as we flew in and dropped us off. He has a wonderful binder in the rooms that help knowing what is around the area and how to get to Athens by bus (which is extremely easy!) Also, resturant recommendations that they suggest is WONDERFUL! If you are looking for a quite area that is close by bus to Athens and every cheap. The beach is a matter of maybe a five minute walk from here. Personally, I would recommand this place to anyone that does not really want to have to plan too much ahead of time and needs the extra hand from someone that is local on what to see and how to get there.
TripAdvisor – Natasja from the Netherlands – Dec 2013
"Excellent stay at a beautifull spot next to the see!"
We stayed in a studio at Villa Verde for 3 nights. Chris and Sylvia, the owners of the villa, are very hospitable and we feld like home. The studio was very clean and had soms space, in contrast to the moderate hotelrooms. We are people who like to be in the city of athens for one day and furthermore be walking along the various beaches with a lovely sea view. We were also very glad that Chris had the time to drive us through the landscape and could show us some amazing sites as the Palini cave, the archeological museum of Marathon, the lake of Marathon and the beach of Schinias.
The villa is located on a peacefull place so we feld relaxed when we flew back home. We have seen a lot and would recommend a stay at Chris and Sylvia for everyone who likes to see te city of athens, but also loves nature and culture.
TripAdvisor – Rebecca from the USA – Sep/Nov 2013
"Cozy, super clean accommodations with friendly, helpful hosts."
I stayed at this lovely Villa with my young daughter. I loved how safe the fenced in grounds were, a plus with a little one. The house is beautifully built and modern with amazing gardens. So many beautiful plants, roses, birds of paradise and more. A fig tree with delicious fruit the owners shared. Tiny peppers and tomatoes growing here and there, just lovely. The room was simple and accommodating with all you need to cook in room meals. A small but lovely bathroom and lots of closets and storage. The owners, a couple who live on the property were charming and helpful. Sylvia cleaned the rooms daily and did an exceptional job. Adding personal touches, a fresh cut rose now and then, a gift of fresh figs sometimes. Chris was an endless font of information on the area, the surroundings the local transportation to and from points of interest. The only criticisms I might make are that the local beaches are very rocky so bring swimming shoes for sure! you won't find them locally. Also, the dogs on their lane bark, without fail, whenever someone comes or goes from the Villa. This is an issue on most streets in the area, not just there's. There are no Laundromats in the area so be prepared to wash laundry by hand. Overall Villa Verd`e is a great place to stay and Chris & Sylvia were great people to meet. They in fact, introduced us to many lovely people during our stay. We also especially enjoyed meeting their cats, my daughter still asks about them.
(Please understand that our cats are not allowed inside the studios and they will not normally go near anyone who does not encourage them – Chris & Silvia.)
TripAdvisor and Homelidays – Dana from Latvia – Sep/Oct 2013
"Perfect holiday home! Felt like home!"
I visited Villa Verde with my family and I am very happy about our stay. Rooms had everything You need. And even more! When we arrived late at night - there was bottled water in fridge, fresh flowers on table. Everything was always clean. Nice new towels, bedding. Every day clean room. Beautiful garden space for dining. Owners made sure that we feel like home and very welcome. Chris & Silvia can advise - best restaurants, nicest beaches and interesting locations to see in all Greece, not just in near surroundings. We made some nice road trips based on their advice. I and my family are very happy of our holidays! Thank a lot Chris & Silvia!
Homelidays – Clement from France – Sep 2013
"Un très bon séjour en grèce"
Nous avons été très bien reçu par Sylvia et Chris. L'annonce est conforme. L'appartement dans lequel nous étions était impeccable et le ménage réalisé tout les jours. Les hôtes étaient à nos petits soins pour toutes questions relatives à notre séjour (visites, resto, plage, coutumes grecques, ...) Présent dans notre studio un classeur avec pleins d'information sur le lieu et les alentours (des livres sur les sites et villes alentours nous ont été prêtés) Un très bon accueil qui donne envie de revenir en Grèce, nous recommandons fortement cette location.
It was a great pleasure to stay in the Sylvia and Chris home. The location is exactly as describe in the annoncement. The studio is great, clean and very well furnished. Chris was here every time we have a questions of any kind.
TripAdvisor – Beatrice from Germany – Aug/Sep 2013
"We are perfectly satisfied!"
Very good in everything: Cleaness, beautifull house and garden, best organisation for trips, help in every questions...We are perfectly satisfied!
TripAdvisor and Homelidays – Inna from Latvia – Aug 2013
"Nice villa and great owners"
"Villa Verde" is a delightful place, very comfortable and quiet. The house has separated rooms with separate entrances to enjoy privacy. Rooms, bathrooms, kitchenets are in a very good condition, well-equipped and extremely clean. It's very nice to sit in a small garden with manicured lawns and beautiful flowers. Chris and Silvia are wonderfully hospitable hosts. They take a great care about their guests and are very pleasant, helpful and easily available when needed. Chris met us at the airport, drove us home and explained all the details important for a traveller. In the room we found also a folder with information, maps, bus schedules etc. Silvia does cleaning of rooms and bathrooms everyday! They helped us in arranging excursions and shopping. When we missed our plane Chris found the hotel for us. So during all days in Nea Makri we felt at home, very safe and comfortable.I should also say that prices are very reasonable for such perfect accomodation. We enjoyed our holidays very much and would highly recommend "Villa Verde" to any traveller.
TripAdvisor – Rob & Yvonne from The Netherlands – Jul 2013
"Place to be, don't look anywhere else"
We had a great time, Chris and Silvia are a very helpful, friendly and warm couple. We gave them our rough plans for the holiday and they came with loads of suggestions which help us plan our stay. Chris picked us up from the airport and took around town for shopping on the first day. Bike's are available from the house which is great to get around town and find your way to the beaches. Room and facilities are superb, first beach and restaurants are at walking distance.
Chris and Silvia, we would like to thank you again for all your help and hospitality, you treat guests like family. Wish you all the best.
TripAdvisor – Maria from Sweden – Jul 2013
"Exellent!"
I'm so glad I found Villa Verde when I was looking for accommodation for me, my son and my friend.
We landed late in the evening and was picked up by Chris - what a service!
The room was larger than we thought after seeing pictures on the web so the extra bed for my son wasn't a problem at all. They didn't even charge extra for putting it in.
There were grocerys in the fridge and fruits and veggies on a table so we didn't have to worry about brekfast next morning. I'm a glutenfree -ovo-vegetarian so I really appreciated it.
The room was functional and clean and Syliva cleaned it every day during our 10 day stay.
Chris came by every morning for a litte chat and gave us tips about what to do. He helped us with a lot of things, like giving us a ride to the supermarket, providing us with win, helpedus to book a one day boat tour.
Lots of thoughtful things that made our holiday memorable. The service is personal and outstanding.
My son is still talking about Sylvias pancakes :)
TripAdvisor – Pierre from France – Jun 2013
"Un très bon séjour à la Villa Verde"
Nous sommes allés à la Villa Verde pour deux semaines et nous avons beaucoup appréciés notre voyage. Chris et Silvia sont très sympathiques et sont d'une grande aide dans la découverte de la grèce.
Endroit idéal pour visiter athènes (1H15 en transport en commun). Il est également possible de visiter un grand nombres de sites/monument si vous disposez d'une voiture de location (Nous sommes allés jusqu'a delphes ou épidaure par exemple).
Le studio était très bien, dans un jardin magnifique.
Merci Silvia & Chris
Homelidays – Jack from France – Jun 2013
Nous avons passé une semaine au calme chez Chris et sa femme dans un logement propre et confortable , nous avons particulièrement apprécié la disponibilité et la précision des renseignements donnés par les propriétaires sur les différents sites à visiter, ce qui nous a permis de découvrir des endroits non mentionnés dans les guides touristiques ( vin y compris !!!) La localisation du logement est idéale pour visiter Athènes et ses environs (entre 1h et 1h 30 en bus pour Athènes)
TripAdvisor – Ken from Canada – Apr/May 2013
"Excellent folks, excellent accomodation, excellent location..."
I arrived in athens april 27th and Chris picked me up at the airport...and after we'd arrived at his property, took me to a restaurant nearby for a meal and a few beers. I really needed that after 23 hours of flight connections from Canada. I'd hired a motorcycle in athens and he drove me there the next morning to pick it up. I was to find he'd go the extra mile to help me out whenever required and I definitely took advantage of his knowledge about sites I intended to visit. After a week of riding across Greece and back I was glad to have a nice quiet place to rest up and check out the local area. Nea Makri is a small seaside town with an excellent beach and lots of little stores and restaurants, as well as some very famous historical sites nearby. It's also on the bus route to downtown athens which is an hour ride for just 3 euros. The price for a room (including kitchenette) was very reasonable and since the airport is just 20 minutes away, it's the main reason I checked out this property to begin with. I'm very glad I did. I was treated excellent by this couple and I forgot to mention Sylvia's crepes...mmm yummy!
Homelidays – Cedric from France – Apr/May 2013
"Nous remercions Chris et Sylvia car nous a nous avons eu un Séjour très agréable dans leurs magnifique maison. Toujours près à vous aidez nous reviendrons à nea makri. Merci pour votre accueil. À très bientot"
Homelidays – Cedric from France – Apr 2013
Merci à Sylvia et Chris pour leur accueil très sympatique. Un ami à eux est venu nous chercher à l'aéroport. Sylvia nous a enmené au supermarché pour les courses, nous a emmené chez le loueur de vélo. Chambre très propre,lavée chaque jour par Sylvia. Possibilité de faire la cuisine avec tous les ustensibles nécessaires, petite terrasse pour manger dehors. Endroit très calme et reposant, à 5 mn à pied des premières plages, restaurants et boulangerie exceptionnelle. Accès très facile pour se rendre à Athènes en bus puis le métro (environ 1h au total) pour 4,2 euros l'aller. Les Grecs sont très accueillants. Prévoir la location de vélo qui est très utile pour se déplacer. Nous avons été jusqu'a Marathon, les plages de Schinias, le port de Rafina et l'ile d'Andros(en ferry, pour 32 euros l'aller/retour) avec. Nous y reviendrons avec beaucoup de plaisir ! Merci encore Sylvia et Chris.
TripAdvisor – Kim from South Africa – Mar/Apr 2013
"Incredible "above and beyond" hospitality"
I am English speaking and it was a daunting task going to Greece.Chris and Sylvia are an ideal place to go to,because they are fluent in English and Greek . So in situations where I needed translation Chris was invaluable. I knew I would need some extra assistance with airport pick-up and ferry pick up and drop-off. Chris gave me a very reasonable all-inclusive price including accommodation ,breakfast and transfers.
He took me to the bus with detailed instructions on the first day. It is not difficult to get to the athens city centre from Nea Makri. He also took me to the grocery store on the first day. He helped me book my ferry tickets too(took me to a travel agent). He also took me on a sight-seeing trip of the highlights around Nea Makri on the final day just out of the kindness of his heart, because he thought I should not miss these.
Everything was spotless .The breakfasts were beautifully presented. I also had a bicycle at my disposal-which I used to cycle along the beach road. The garden of Villa Verde is simply stunning.
So finally Chris and Sylvia simply could not have done more for me. They made my holiday in Greece a glorious experience for which I will always be grateful. They are so much more than simply accommodation(which is phenomenal anyway) . They will help with transport and any travel details that may need ironing out.. Chris is an efficient tour guide as well. I recommend them completely wholeheartedly .
TripAdvisor – Smudge & Lenda from the Netherlands – Feb/Mar 2013
"Best holiday yet"
We stay at Villa Verde for 13 days, it was the best holiday we have had so far.
Nothing is too much problem for Chris or Silvia, whether its explaining to the taxi driver (In Greek) exactly where we needed to go,phoning up bars to ensure they stock Jack Daniels (My drink), picking us up at the airport etc etc.
The price was extremely cheap compared to other hotels in the area.A self contained apartment that was cleaned daily (And Villa Verde has modern north western toilets not the "traditional" Greek ones)
The location of Nea Makri is great to anyone who wants to visit the historical sites in athens but still want to be within walking distance of the beach.
We had a great time, we are going to stay again later in the year
Smudge and Lenda
TripAdvisor – Isabel from Venezuela – Dec 2012/Jan 2013
"Sea, english friends, close to athens"
I had a great time in Villa Verde, because Silvia and Chris do the best they can in order to help their guests. Greece is an incredible country but as my own, Venezuela, it really is an advantage to have someone that really knows it as Chris is willing to help you,with any problem or language need you may have. I stay over christmas and New Year, but they make sure I didn´t feel lonely, that speaks about them. Really good people.
The following guests sent reviews to TripAdvisor for holidays in previous years.
Josta from Amsterdam – October 2012
very nice place to stay
we stayed here in autumn holidays.
the apartment is well kept and clean. chris and olga were very nice and helpful and they picked us up from the airport.
perfect location to combine beach / countryside and city trip to athens, although a bit far from athens by bus (about 50 minutes).
all surrounding neighbors seem to have dogs, so a lot of barking in the night and when you walk home.
Stephen from the UK - September 2012
Excellent location, excellent quality studios with superb hosts.
Look no further than this, Villa Verde is 30 mins from athens airport, eating, drinking & beaches are a 5 minute walk away. The accommodation is immaculate and cleaned well each day day. A 25 minute bus ride takes you to the tube station where the underground takes around 10 minutes into the City where you must visit the Plaka area, Acropolis & Likavitos. There is plenty of brochure info in each studio or Chris & Silvia are at hand to give you help & advice in plentiful, they both speak some good Greek too. The lawned gardens surrounded by carefully tended bushes & shrubs make it a delight to return to after your day out, a beer, sat in your chairs on your patio under your parasol is a nice way to chill until you venture down the road to the tavernas & bars close by for your evening meal. Wi Fi is there with no charge as is television with endless channels. Chris could possibly pick you up from the airport to bring you in. The port of Rafina is 15 minutes away by bus or car where you can sail off to the islands on the ferries, eat at the excellent fish tavernas or spend the day on the sandy beach where there is lots of parking for those who take the car. Once you have been to Villa Verde you will return for future holidays, our two visits this year will make it 5 visits in 2 years, that says it all. The studios are well kitted out with good furniture, plenty of storage, comfortable beds and a well equipt kitchen area that has some really handy things in the cabinet to get you started. l can think of no negatives at all for this place and can't wait to get on the plane again.
Linda from the UK - September 2012
Excellent,Warm and Hospitable.
Our stay at Villa Verde was like a home from home! The hosts, Chris and Silvia, were very welcoming and looked after us very well, nothing was too much trouble. The apartments were equipped with everything we needed and things we hadn't even thought of. We have 2 small children and in the apartment were toys for the beach and cuddly toys for them to play with. The apartments were cleaned every day which was exceptional. The gardens were beautiful and relaxing, ideal to sit and relax after a day out. We would not hesitate to recommend a stay at Villa Verde and are looking forward to our next visit.
Jan from Belgium - November 2011
Unforgettable stay
Waiting for athens marathon and enjoying a wonderful place with fantastic people.
Anny & Vasko from Bulgaria - September 2011
Green Feathers` under blue sky
Can you imagine the biggest town in Greece - Athens - with more than 6 000 000 citizents?
And can you imagine the most quiet place hidden a step away both from the town and the sea? If you can`t, then you`ll have to visit it. If you can - make sure I`m right. That is Villa Verde in Nea Makri - a seaside quarter of athens.
If you want to be just a tourist - then be. If you want just to bathe in the sun and sea - please, enjoy yourself.
Our advice is to spend some time with Chris - an Englishman that is a wine and Greece expert one can trust. Believe us - we know it from our own experience. The place is clean, spacious, taken good care of. We are pretty sure that there other places like this by the sea. But Chris and Silvia make their house unique. They make you feel their home your home.
Thank you for all that Silvia!
Thank you Chris!
P.S. We follow your opinion about the islands worth visiting and we find you were very, very right.
Adrian from the UK - August 2011
Enjoyable holiday at Villa Verde
We spent a very pleasant week at Villa Verde in august 2011.the accommodation layout was well thought out and very comfortable.Everything was in good condition and very clean.If we had any concerns then Chris and Silvia were happy to help.They were also helpful regarding places to visit and restaurants to visit.We were a short (5 minutes)walk to the sandy beach which had most of the better bars and restaurants along it.It is difficult to say what was the best feature as the rooms were very nice,the gardens beautifully cared for and the location ideal.
Alla from Germany - August 2011
Super Urlaub
Für alle mit der Lust Nicht- All- Inklusiven- Urlaub zu machen ist ein echtes Snäpchen!
Günstig, bequem, sauber, sehr nette Gastgeber. Das Zimmer ist klasse gewesen: hell, schön, groß genug für eine 3-Köpfige Familie, alles neu und frisch gebaut. Dusche und Toilette ist auch drin plus eine kleine Einbauküche mit dem Geschirr, das die Selbstkocher benutzen könnten, Fernseher, Klimaanlage, eine Terrasse mit dem Sonnenschirm, Gartentisch und paar Stuhle, nach anfrage ist auch Internet möglich. Wer auch Restaurant gerne benutzt, gibt es toller auswahl. Fragen Sie nach. Nicht weit weg vom Meer und Stadtpromenade, also ich schätze mal 300-400 Meter, trotzdem sehr ruhig. Man kann auch Stadtstrand benutzen. Mit Kleinkindern zum Kinderstrand fahren ist auch möglich. Unbedingt mal eineFährenreise zur Insel machen - ein wunderschönes Plätzchen!!! Die Gastgeber waren so freundlich uns alles zu zeigen, ein Paar gute Tipps zu geben und sogar uns mit eigenem auto vom Flughafen abzuholen und hinzubringen!
Finally, the Homelidays reviews for our first three years follow.
Holiday rental Nea Makri n° 309961
Testimonials from Homelidays members
| | | | |
| --- | --- | --- | --- |
| Date | Overall mark | Name | Country |
| 20/11/2012 | 5/5 | Mr. K. A. | France |
| 14/11/2012 | 5/5 | Mr. Robert S. | United Kingdom |
| 22/10/2012 | 5/5 | Miss Anna G. | Russia |
| 15/10/2012 | 5/5 | Mr. jacques b. | France |
| 26/09/2012 | 5/5 | Mrs. ELENA S. | Russia |
| 19/09/2012 | 5/5 | Miss NOEMIE B. | France |
| 18/09/2012 | 5/5 | Mrs. MICHELE L. | France |
| 14/08/2012 | 5/5 | Mr. Christophe H. | France |
| 17/10/2011 | 5/5 | Mr. Valmi T. | Italy |
| 23/08/2011 | 5/5 | Mr. STEVEN O. | France |
| 13/08/2011 | 5/5 | Mr. marc F. | France |
| 07/08/2011 | 5/5 | Miss fabienne w. | Belgium |
| 07/12/2010 | 5/5 | Mr. Saar R. | Czech Republic |
| 05/11/2010 | 5/5 | Mr. Stuart R. | United Kingdom |
| 29/09/2010 | 5/5 | Mrs. luo x. | China |
| 06/09/2010 | 5/5 | Mr. Thierry V. | France |
| 16/08/2010 | 5/5 | Mrs. CELINE G. | France |
| 28/07/2010 | 5/5 | Mr. William A. | United Kingdom |
| 25/07/2010 | 5/5 | Mrs. Mieke G. | The Netherlands |
| 20/07/2010 | 5/5 | Mrs. Giuseppina S. | Italy |
| 04/07/2010 | 5/5 | Mr. Paul C. | France |
| | | | |
| | | | |
| | | | |
Details on the testimonials
"Nous avons séjourné 10 jours à Néa Makri fin octobre. Le temps était très beau et nous avons pu nous baigner tous les jours, les plages sont à deux pas de la location. L''accueil du propriétaire est très aimable, prêt à rendre service et à rendre agréable le séjour. Chris nous a indiqué des suggestions d''excursions aux alentours, nous a offert les tomates de son jardin. Il est venu nous chercher à l''aéroport. Nea Makri est une ville agréable à vivre et est une base pour visiter Athènes mais aussi le Péloponnèse. Je recommande vivement cette location et l''accueil réservé pas son propriétaire. We had a great time at Chris and Sylvia''s home. We were there at the end of October, the weather was very fine, sunny and warm (around 23°) We could swim in the sea every day of our stay. The owners were very kind and helpful giving information and tips about the visits and monuments around. Nea Makri is a quiet and good location to visit Athens and also Peloponnese. I highly recommend this house and looking forward coming back again. Thank you Chris and Sylvia for your hospitality. Madame K. A. (France)"
K. A. - Member n°7047283 (France)
"Perfect, clean room as described in the advert. We couldn''t have asked for a more pleasant stay or a more hospitable and kind hotel owner. Would recommend Villa Verde to everyone, and would have no hesitations in staying there again. Wonderful!"
Robert S. - Member n°7656531 (United Kingdom)
"Chris and Sylvia are very hospitable hosts. Chris had not only picked me up at the airport, but also helped to purchase foodstuffs and brought me to the airport at the end of my stay. During 2 weeks stay, Chris and Sylvia readily answered all of my questions about local attractions, cafes, restaurants, trip to Athens, and others, helped me to rent a bike at reasonable price. There was a good fold with directions to various places of interest in my apartment. Apartment was very comfortable with kitchen fully equipped and there were even salt, sugar, oil, etc. I was pleasantly surprised that, despite the fact that this was an apartment, Sylvia cleaned it daily, so it''s a wonderful combination: comfort suites and clean hotel room :o). Each apartments has its own "patio": an umbrella, table, chairs, drying. It is very comfortable and pleasant. Chris and Sylvia even allowed to pick figs from their tree, which provided feeling that you live as if in a separate house. Chris and Sylvia helped me to plan my onward journey to Greece, helped with good contact to apartments on the islands, and helped me even remotely, communicating with me during travel through the mail."
Anna G. - Member n°7478820 (Russia)
"Situation très agréable, non loin d''Athènes. Les propriétaires sont charmants et très attentionnés. Ils ont toukours une bonne adresse à nous communiquer, avec un plan détaillé pour s''y rendre. L''appartement est impeccable, tant au niveau propreté qu''au niveau équipements. Adresse à recommander. Avec en prime un jardin verdoyant et fleuri."
jacques b. - Member n°5206778 (France)
"Le séjour a été merveilleux. Le service est très bon. La villa est magnifique, bien équipé. Une belle pelouse et le jardin fleuri. Mer à proximité. Les plages sont propres. Personnellement, je voudrais prendre un vélo à louer pour voir plus de la nature. Deux fois j''ai été à Athènes en bus, c''est pratique, et le musée de Marathon. Hôtes accueillants.Ils nous ont donné beaucoup de bons conseils et traités fruits du jardin. Il est très agréable.
The stay was wonderful. Service is very good. The villa is beautiful, well equipped. A beautiful lawn and flower garden. Sea close. The beach is clean. I personally would like to take a bicycle to see the beautiful view of nature. Twice I''ve been to Athens by bus, it is convenient, and the museum at Marathon. Hospitable hosts.They gave us good advice and treated fruit from the garden. It was nice."
ELENA S. - Member n°7371482 (Russia)
"Villa verde est un lieu de vacance paisible, magnifique jardin, idéalement bien situé. On peut se rendre à Athènes en bus puis métro (environ 1 heure de trajet). Chris est très accueillant, n''hésite pas à nous aider, est venu nous chercher à l''aéroport et nous a amené faire les courses le 1er jour. Le ménage est réalisé tous les jours. On peut se rendre à la plage à pieds en 5 minutes."
NOEMIE B. - Member n°7120404 (France)
"accueil amical de Chris et Silvia aux petits soins pour que notre séjour soit agréable avant et pendant Logement adéquat pour des vacances,propre, calme et confortable,nous avons profité du jardin et de la mer pas loin. Situation parfaite pour visiter Athenes par bus.tout etait bien. Enchantés par cette belle découverte à renouveler. "
MICHELE L. - Member n°7483224 (France)
"Je conseil vivement cette adresse, Sylvia et Chris sont toujours prets à vous rendre service, le ménage est fait tous les jours, cadre calme et silencieux au milieu du beau jardin qu'' entretien quotidennement la maitresse des lieux. Le centre ville se situe à 10-15 minutes à pieds, mais possibilité de louer des vélos, ce qui est également agréable pour choisir sa plage préféré. A visiter les musées de la ville de Marathon, puisque celle-çi est Nea Makri font en fait partis de la meme municipalité."
Christophe H. - Member n°7280165 (France)
"Appartamento pulito, silenzioso, immerso nel verde, vicino al mare e ai servizi. Mezzi pubblici vicini per Atene. Estremamente gentili i proprietari che forniscono anche preziose informazioni."
Mr. Valmi T. - Member n°6330978 (Italy)
"Une résidence magnifique très bien située, très propre. Vous pourrez aller à pied à de nombreuses plages avec ou sans sable mais toujours avec une eau très claire et peu de touristes.On peut se rendre aussi a Athènes ou dans les îles en une journée. Chris et Silvia sont d''excellent hôtes et font tout pour nous faciliter notre séjour sur place(ménage tout les jours, accompagnement au port, de nombreux conseil sur les choses a faire et à éviter et même selon la saison quelques légumes du jardin offerts...).Résidence fortement recommandée"
Mr. STEVEN O. - Member n°4730627 (France)
"Nous avons été enchanté par l''accueil, Chris et Silvia sont très disponibles et disposés à rendre service tout en étant discrets. L''hébergement superbe, propre, agréable à tout point de vue. Nous avons apprécié le ménage fait tous les jours. L''environnement est parfait, la mer à 150m les restaurants à 150m jusqu''à 1km à pied facile à faire dans le cadre d''une balade."
Mr. marc F. - Member n°1483193 (France)
"Nous ne pouvons que conseiller Villa Verde pour des vacances reposantes et ensoleillées. Les propriétaires sont super gentils et attentionnés, l''environnement est idéal (jardin verdoyant de la maison, plages très proches, excursions citadines ou sur les îles). Notre fille de 2 ans a pu gambader dans le jardin, patauger dans sa piscine et prendre de nombreux bains de mer. Vraiment très agréable!"
Miss fabienne w. - Member n°5680407 (Belgium)
"We very much enjoyed our stay in this property. The place was new and clean. The owners are very hospital and friendly. They were very helpful and kind. The surrounding is quiet and close to the beach and the city Athens. We came for offroading and it was full of offroad trails all around. It is the only place in Greece where they allow you to throuw the toilet paper into the toilet. We highly recommend this place."
Mr. Saar R. - Member n°4473904 (Czech Republic)
"As a family of three we were delighted with the friendliness, cleanliness & hospitality given to us by the owners who lived upstairs. Always willing to help & advise, but never intrusive, their only thoughts were how to help us make our stay a very memorable one. Lovely south facing beautifully kept garden, walking distance of town, but frequent offers of lifts or shopping for us. Quiet nights, comfortable beds. Easy access by bus to Athens, so highly recommended for summer sun or winter sightseeing."
Mr. Stuart R. - Member n°5350236 (United Kingdom)
"Chris and Silvia, the most generous owner of such charming house I've ever seen. I think Villa Verde is the best choice for family when you are going to Greece. At first, the fee is lower than other apartments in Athens, especially including transfers from and to Athens International Airport, which is so important to a family with so many baggages and a little child. Second, though the house is not very near the center of Athens, you should take about one hour in the way by bus, so you can visit the really different beautiful sceneries of Greece on road, it is really a surprise pleasant. What's more,Villa Verde, the lovely house, is so peaceful, flowers are everywhere. Chris gave us some fresh fruits planted in this yard every morning. My little baby liked the surroundings so much.Silvia made the house so clean, you can smell the taste of the sun all the time. I liked the Mini Kitchen very much. The speed of the internet is also good. Sometimes, you feel that you are in your own home. At last, Chris is also a good tourist guide. He is most enthusiastic and thoughtful, prepared everything maybe useful to you, from the timetable of the bus to the best restaurant of the town. He did not only tell your the name of it, but also took you to the location by car by himself, which moved us deeply. We really had a good time in this house. If we have a chance to Greece again, we hope we can live in Villa Verde once more. For it is not a house, but two old friends who will be always ready to help you."
Mrs. luo x. - Member n°5253399 (China)
"Séjour très agréable dans un logement neuf fonctionnel et confortable (connexion internet disponible). Le jardin constitue un petit havre de verdure où il est bien agréable de se détendre et de prendre ses repas. Athènes et les plages sont accessible sans voiture. Cerise sur le gâteau: la gentillesse la disponibilité et l''efficacité de nos hôtes."
Mr. Thierry V. - Member n°4812838 (France)
"Les propriétaires Chris et Sylvia sont des personnes formidables. ils sont toujours là pour aider même pour faire des courses au supermarché ils ont mobilisé leur voiture. il facilite la communication car à eux deux ils maîtrise beaucoup de langues. L'appartement est nétoyé tous les jours, les draps changés régulièrement. En plus de l'état neuf des lieux, la connection internet est parfaite et il y a plus de 500 chaines télés à disposition. la maison est écologique avec la géothermie comme climatisation et des panneaux photovoltaïques pour l'électricité. en outre, on est entouré de verdure et d'arbres fruitiers comme le figuier dont on se régalait tous les matins. en somme Nea Makri est un lieu trés reposant entouré de plages dont l'eau est trés propre et pas trop fréquentées et si vous résidez chez Chris et Sylvia vous n'allez pas le regretter car ils sont cooooooooooooooool"
Mrs. CELINE G. - Member n°4945271 (France)
"Chris and Silvia have created both a lovely home and holiday accomodation. A lot of thought has gone into this property and results in providing a very comfortable and enjoyable place to stay for would be visitors to Athens. Villa Verdi, Nea Makri,is within easy reach of the airport and Athens City (we used the buses) but the town itself offers lovely eating houses as well as good local shops and little beaches all within a few minutes walking distance as well as plenty of nearby interesting sites to visit (Marathon for instance). We are looking to return to Athens with friends, the self catering rooms are well suited for us with all amenities, secure and your own privacy when you feel you need it. We would look forward to returning to stay at this nice villa again."
Mr. William A. - Member n°4733261 (United Kingdom)
"Best possible place to stay to visit Athens, Maraton, Sounio,... (and with rented car in daytrips also Delphi, Mykene, ...) But also perfect to relax and enjoy the Greek sea, restaurants, hospitality, ... Super clean all the time. The house, furniture, garden, ... : everything is brand new. Satellite TV & internet free. Chris and Silvia always want to help : they searched the solution to fix every problem while we're out on the beach. Opening hours musea, garage for our car, ... Silvia even washed once the dishes during our stay! We stayed only 2 nights during the start of our holiday because we planned a roundtrip for all of Greece and payed everywhere in advance. Our experience (don't make the same mistakes) : Many holiday-homes on the main continent are not as good as this one (example : mostly buildings from 1950-1960 with toilet paper in basket, airco not working, price on email confirmed but no more valid, only speaking Greek, ....). And too many days lost because of moving everything from one to another location. If we could replan our holiday we would stay 1 week in Nea Makri and visit everything from there in daytrips."
Mrs. Mieke G. - Member n°4987149 (Belgium)
"Suggerisco questa località per la grande disponibilità e cortesia dei proprietari, per l''abitazione nuova ed ecologicamente concepita, per la posizione di Nea Makri, alla giusta distanza dalla congestionata Atene e su una costa non meno carica di storia (vedi Maratona, Ramnunte, Brauron, Capo Sounio ecc.) La cittadina è vivace e piena di locali, ma Villa Verde è in posizione tranquilla e silenziosa. Chris e Silvia hanno il raro dono di far sentire a casa i propri ospiti."
Mrs. Giuseppina S. - Member n°4764941 (Italy)
"Je recommande vivement cette location. Elle est exceptionnellement confortable: tout est neuf et d''excellente qualité dans une maison écologique parfaitement conçue. Très bonne connexion internet (câble éthernet). Les hôtes sont très sympathiques et font tout pour faciliter le séjour (y compris si nécessaire en assurant le transport aller et retour à l''aéroport). Il y a une petite plage à proximité où l''eau est très claire (galets mais avec passage sablonneux facile à trouver). Des autobus fréquents assurent la liaison avec Athènes (terminus près du Musée archéologique national). Bref, c''est un très bon choix pour visiter Athènes tout en évitant la grande ville, en logeant confortablement dans un cadre verdoyant et en profitant de la plage."
Mr. Paul C. - Member n°2880757 (France)
Other guests have left or sent the following comments.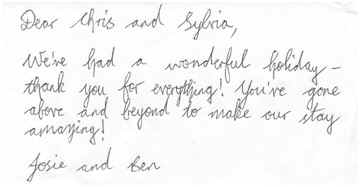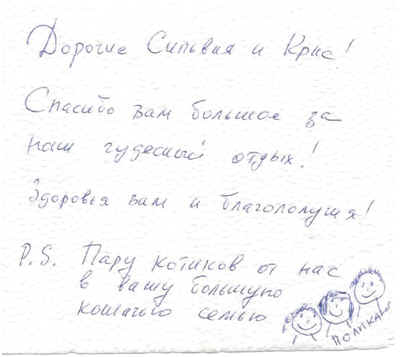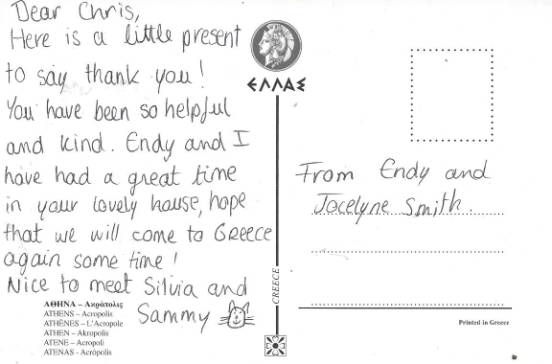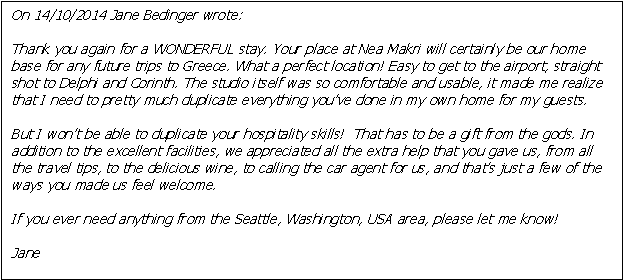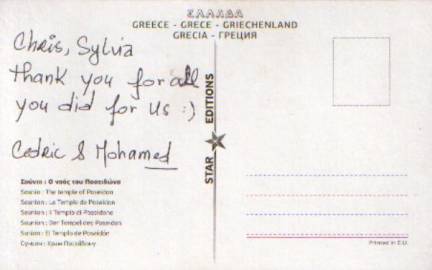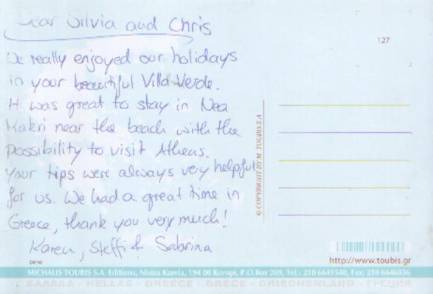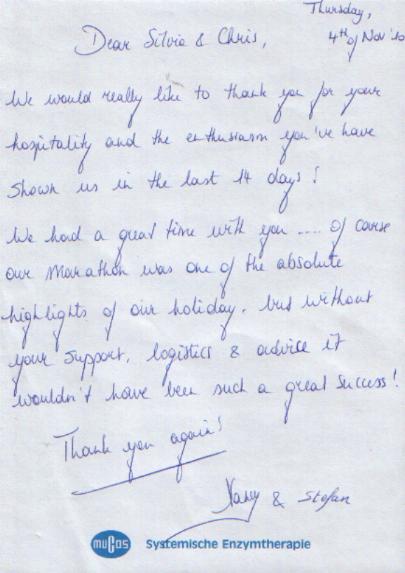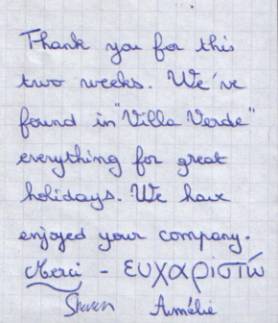 In chronological order our guests have come from the following 46 countries:
United Kingdom
Poland
France
Ukraine
Italy
Sweden
Germany
China
Belgium
Albania
Czech Republic
Latvia
Greece
Bulgaria
Afghanistan (US citizen)
The Netherlands
Romania
Russia
Venezuela
USA
South Africa
Canada
Belarus
Argentina
Australia
Spain
Switzerland
Austria
Kenya
Israel
Gibraltar
Cyprus
Hungary
Serbia
New Zealand
Luxembourg
Republic of Ireland
Estonia
Finland
Denmark
India
Brazil
Moldova
North Macedonia
Slovakia
Lithuania
Lebanon