Cats in Greece
Too many people in Greece treat cats very badly. Far too often cats are not sterilised and when females become pregnant they are simply taken away and abandoned. Kittens are sometimes given to children to play with through the summer holidays, then they are left alone on the street when the family leaves the summer home. Some abandoned cats and kittens starve to death, a few survive around the street bins, and some are then poisoned when they become a nuisance to residents. Only a very small number of lucky ones are rescued and given new homes.
We decided that we wanted to help so we started a new group, Nea Makri Cat Rescue. Through Facebook we expected to find other local like-minded people who would want to get involved. That didn't happen. We also believed that kittens raised to be people-friendly would easily find new homes. Wrong again!
If any of our guests or their friends would like to adopt a Greek cat or kitten we can arrange everything so that it can be taken out of Greece. Transportation doesn't have to be very expensive. For example, Aegean Airlines charges just 40 Euros for a cat to travel accompanied in the cabin pretty much anywhere but the UK. For the UK, fly from Athens to Brussels or Paris and arrange to be met and driven to the UK.
Why should anyone adopt a Greek cat when there are cats nearer to home that need homes? Generally someone in other countries will take care of abandoned cats. Here in Greece they will usually simply suffer and die.
You can find our Facebook cat rescue page at:
https://www.facebook.com/Nea-Makri-Cat-Rescue-858611210891245/?fref=ts
Our Rescued Cats and Kittens
A few of our rescued kittens have found homes.
These 3 white brothers and their sister were born on 17 August and they have since lived inside our house and on our balconies. They just love human interaction.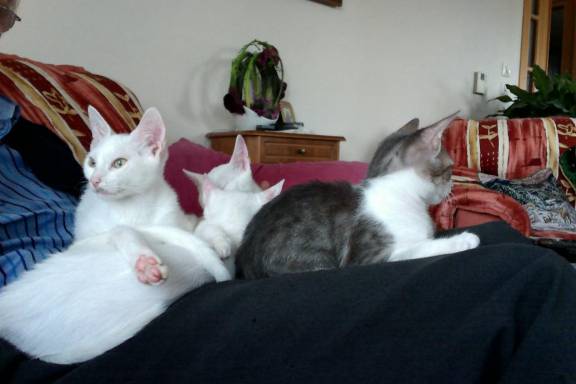 Fotis has now joined a family nearby here in Nea Makri
Argos is a very friendly but very energetic kitten who needs to live inside but to have space outside to burn off his excess energy.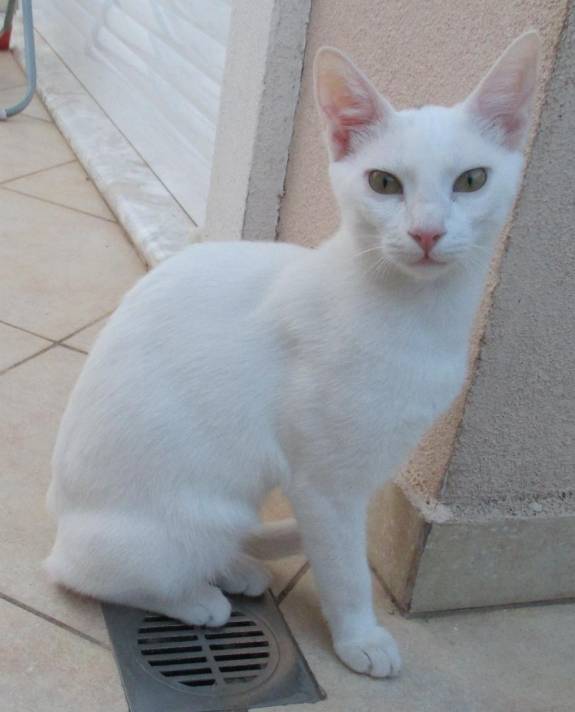 Aris has found a new home with a young couple and their other cat in a central Athens apartment.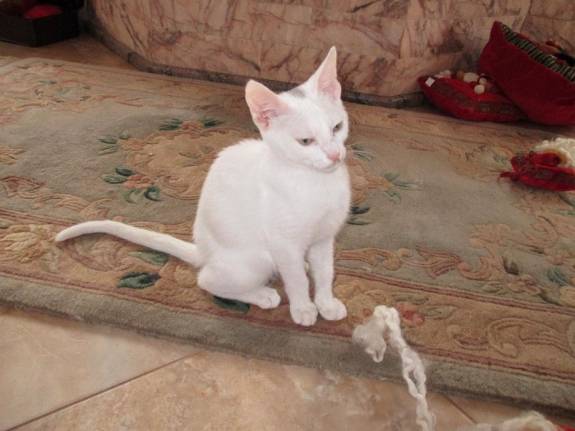 Silvia's son Max has adopted their sister Xanthi. We don't know if she will ever go to live with him in the Ukraine so for now she's staying with us.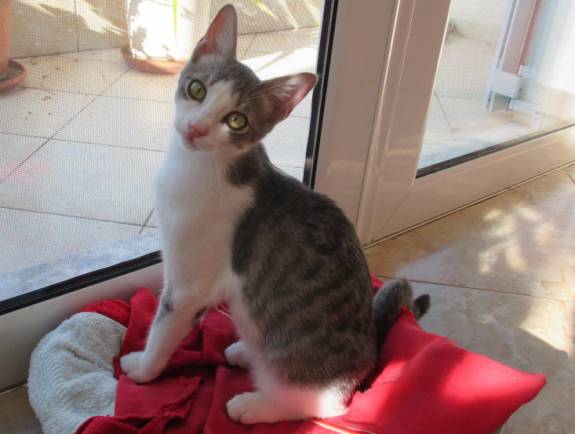 Slightly older are 2 kittens that were born around 10 July. After a few problem-filled days on the streets they have also lived in our house and on our balconies. They are also very friendly.
Sophia is a quiet and friendly kitten who has been spayed.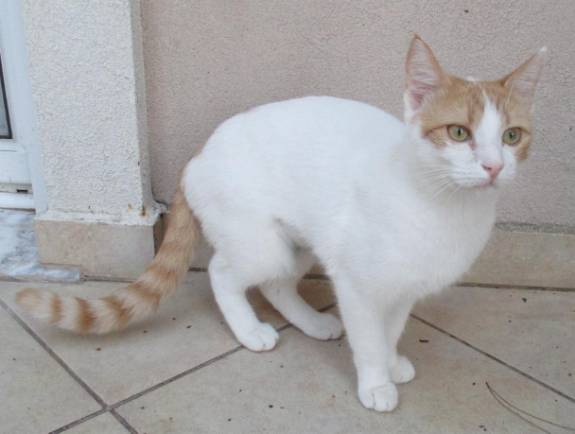 Chris' daughter Karen has adopted her sister Elsa but we're pretty sure that she will be staying in our care and not travelling to England.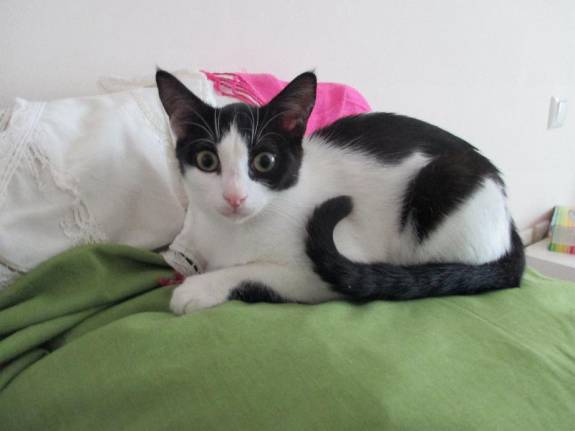 Their mother Sinefa, who has now been spayed, is also a very friendly cat. We don't know how old she is but she's very playful so certainly young at heart.
These 2 young sisters spent their first 7 months living outside but, since being spayed, they lived in our house and on our balconies.
Sadly Becky had a serious heart problem and she died at just ten months old.
Her sister Litsa is very shy and quiet but very affectionate once she gets to know you.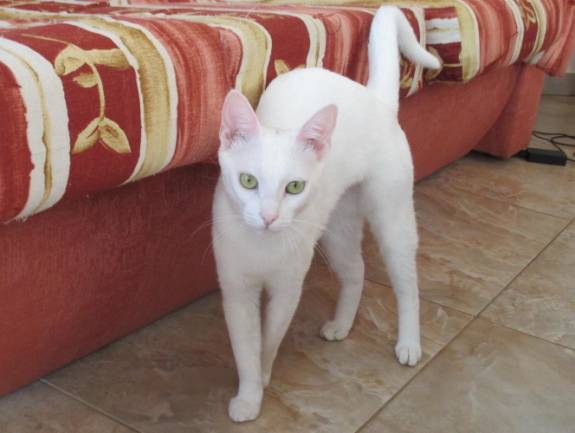 6 other cats moved into our garden from a neighbour's house. Sadly one has since died from a urinary infection.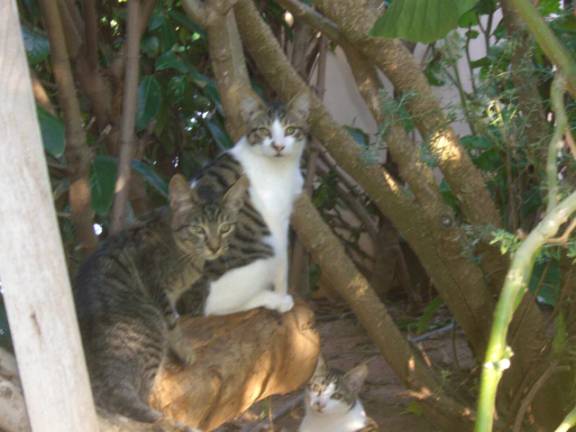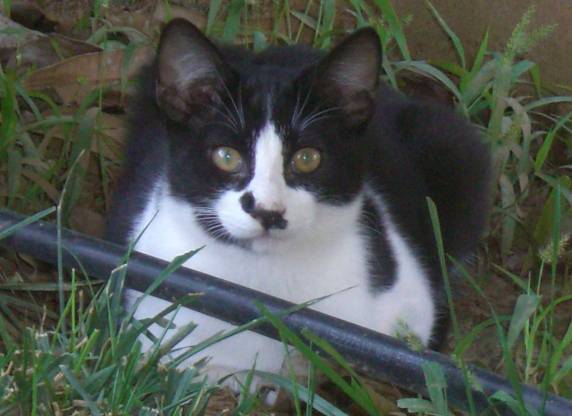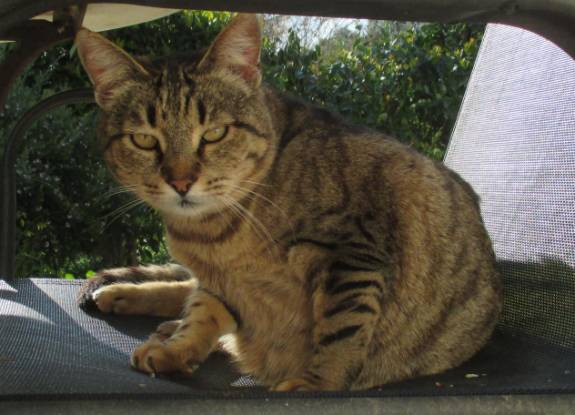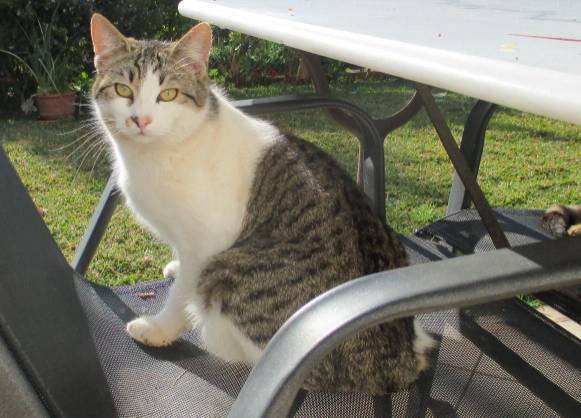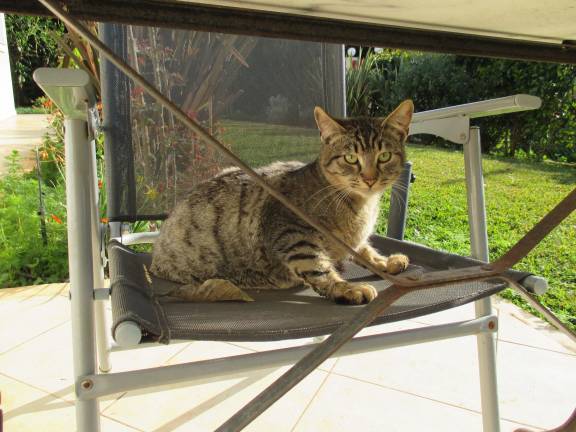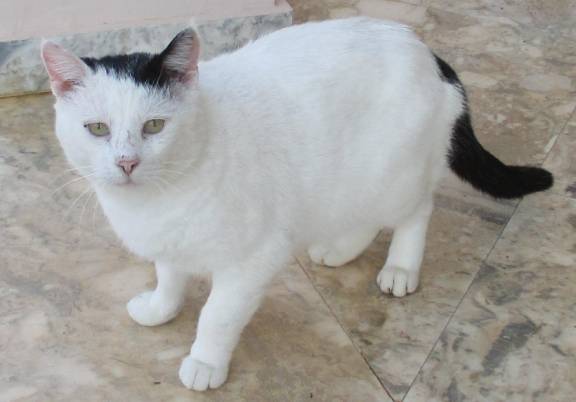 We also feed four others who are living free near to our home.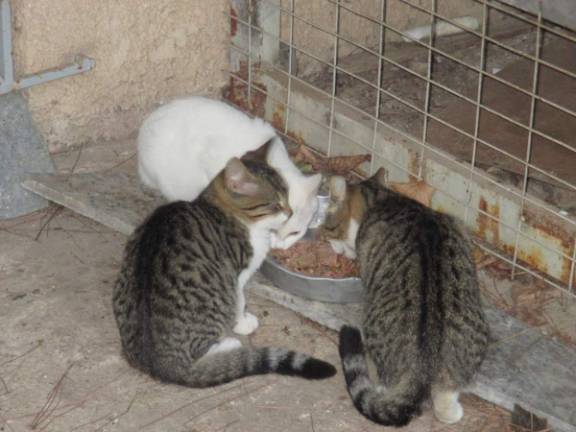 These are all over and above the nine cats that we have taken in over the last seven years or so.
Below are a couple of stories about cats that we rescued in the summer of 2015.
Sinefa's Story
On the afternoon of Tuesday 21st July, somebody abandoned Sinefa and her 5 kittens. The kittens were around 10 days old and they were left in a box at a place where we were feeding another abandoned cat twice a day.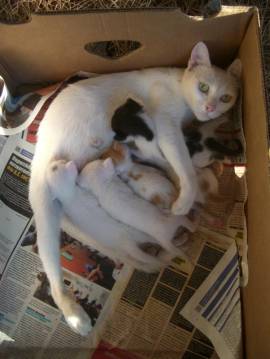 We provided them with a kennel, food and water, and they settled there. The location is close to roads so we immediately tried to find somewhere better for them to live, at least temporarily. We visited to feed them 3 times a day.
From the start Sinefa was a very friendly cat so she must have had a home before she was thrown out.

She wasn't eating much and she didn't seem to have enough milk for her babies.

The kittens very quickly started to eat cat pate and we also fed them some special milk.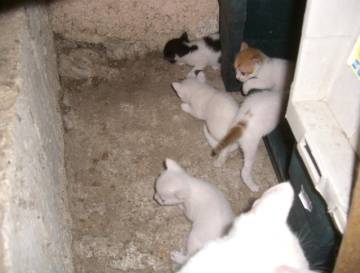 On Saturday 1st August two things happened. Firstly Sinefa's face was damaged with what looks like a burn mark, perhaps from a car parked next to their temporary home. The most active of her 5 kittens then disappeared, never to be seen again. Perhaps a child took it away, not realising that at around 20 days old it still very much needed its mother.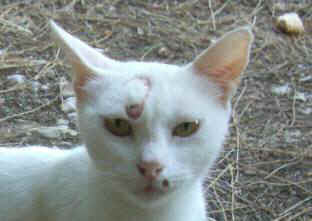 On Sunday 2nd they were all missing when we went to feed them around midday. We then learned from a neighbour that a dog had been causing her problems. She had taken her kittens across the coast road, especially busy on a summer Sunday, to find somewhere safer for them. Whilst carrying one kitten she was hit by a car. She ran away and he thought that the kitten died.
We couldn't find them that evening, nor the following morning. Sinefa then appeared at the place where she had been abandoned so we were able to feed her. Luckily she had no apparent injuries. Four days later a neighbour found one kitten in his garden. We then found the other three so it seems that one wasn't killed on the road. We brought them home and they were at least safe in our attic.
The good news is that two of Sinefa's kittens have found new homes. The white girl, Aphroditi, has joined another cat with a lovely family in an Athens apartment. Unfortunately we found that the white boy, Akis, was deaf but he was lucky enough to be flown to his new loving home in Cyprus.
The two remaining cats are still with us. These are photos of Elsa and Sophia at around five months old.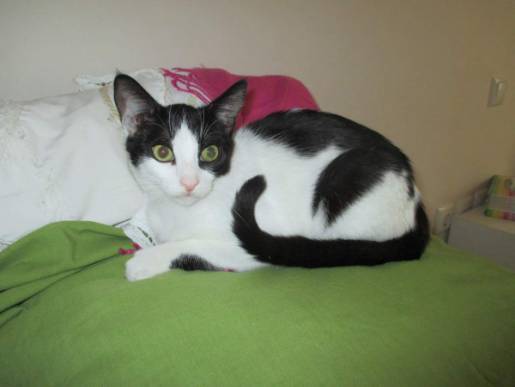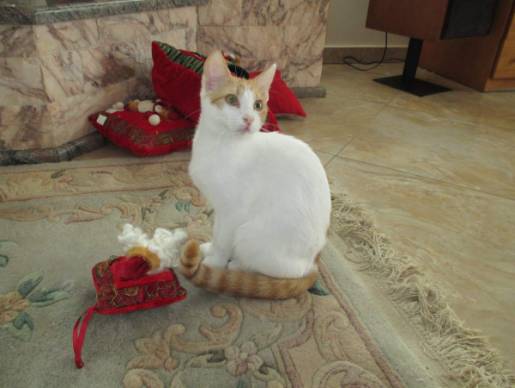 Lucky's Story
Lucky was an older cat that was abandoned at the Corali seafood taverna, heavily pregnant and with a very badly damaged ear. We immediately started to feed her to stop her crossing the road to the rubbish bins. She settled in the taverna's storeroom and gave birth to 4 kittens on 7 April.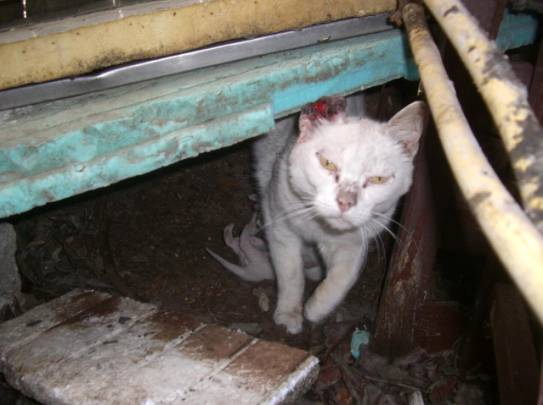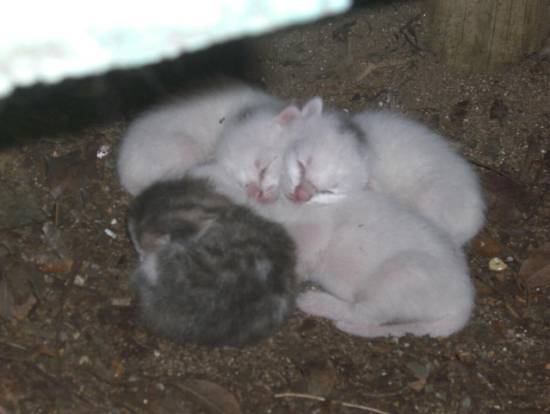 The vet couldn't operate on her ear until her kittens were old enough. He then removed the ear that was infected with cancer and we took her home to recover.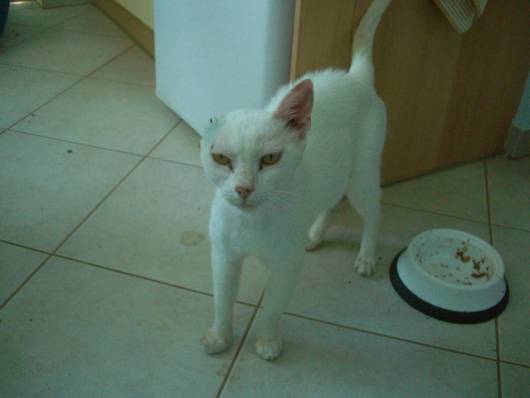 She was very happy just relaxing on our balcony so we didn't return her to the taverna. We then took her to be sterilised but we found that she had very quickly become pregnant again. Unfortunately she still had some cancer around the base of her ear but she didn't seem to be in pain. We decided to let her and her fairly well developed babies live. On 17 August she gave birth to 5 kittens that lived in a kennel on our balcony.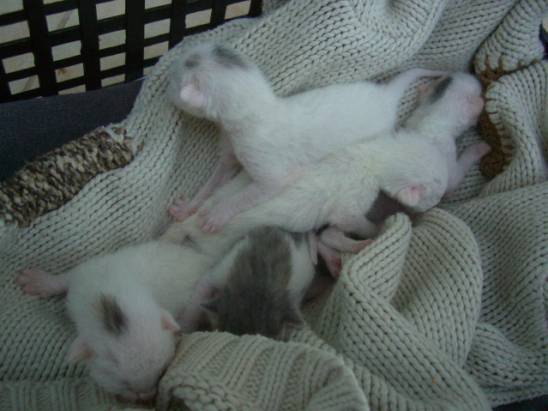 We expected them to be very human friendly by the time they were old enough to leave their mother so we were hoping we would then be able to find homes for them. In the end only three were adopted, as described above.
Sadly Lucky's cancer finally beat her when her kittens were around two and a half months old.
Two of her previous litter continued to live in the taverna store room where we fed than twice a day.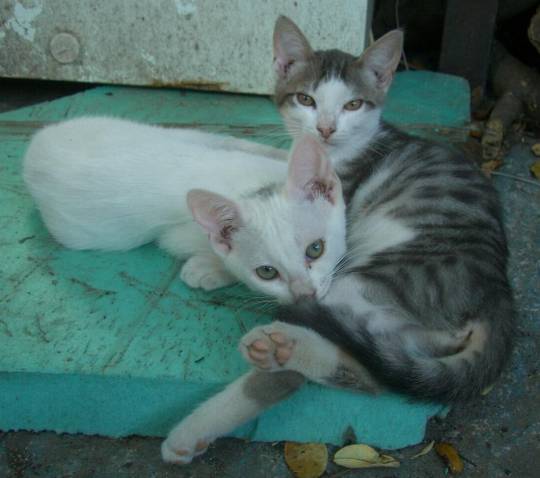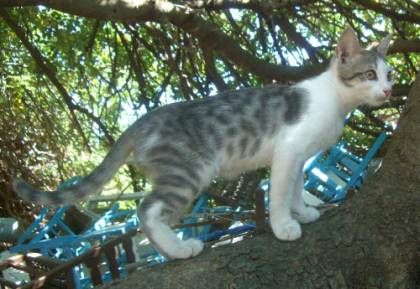 Despite a lot of effort we couldn't find them homes. At seven months old we took them to be sterilised and they came to live with us.
These are some photos of the six kittens that Lucky left us.