Cars can be hired from Rafina or the airport. Please see our Car or No Car page for details.
We have three bicycles that our guests are welcome to use, on a first come first served basis, and at their own risk. We invite in return a small contribution towards maintenance costs. Additional bicycles can usually be hired in Nea Makri but please order in advance to be sure.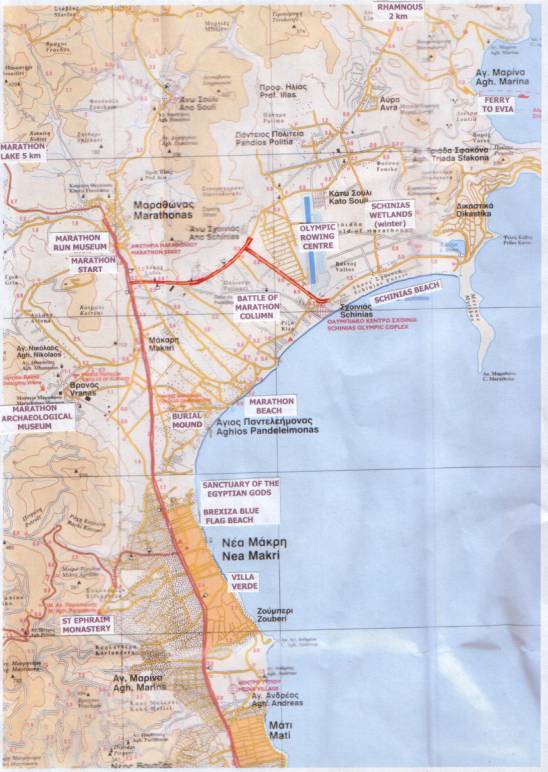 Local fisherman Yiannis offers boat trips from Nea Makri harbour.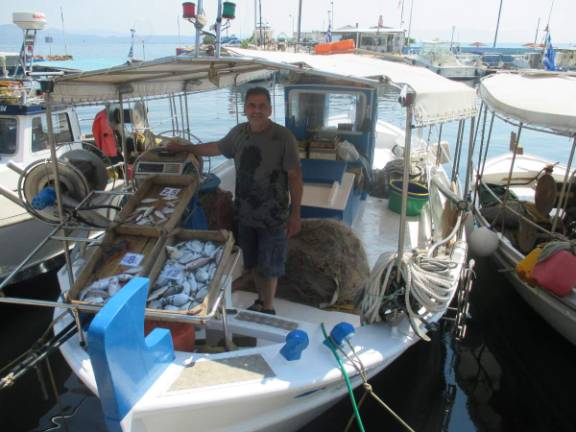 Between June and September the section of coast between Marathon Beach and Schinias Beach has a number of beach clubs with water sports including windsurfing, sailing, water skiing and canoeing. Scuba diving is available all year round (accessible by bus). Towards Marathon there's a horse riding centre and a tennis club. Please see the Links page for more information.
There are many rock climbing sites within easy reach. You'll need a car, ideally a four wheel drive. Again please see the Links page for more information.
Fifteen minutes away by car is the spectacular long sandy beach backed by pine forest at Schinias. In July and August a few buses link Nea Makri to Schinias beach.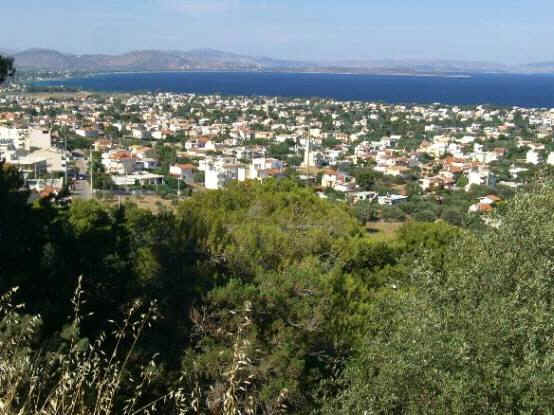 SCHINIAS BEACH IN THE FAR DISTANCE BEHIND NEA MAKRI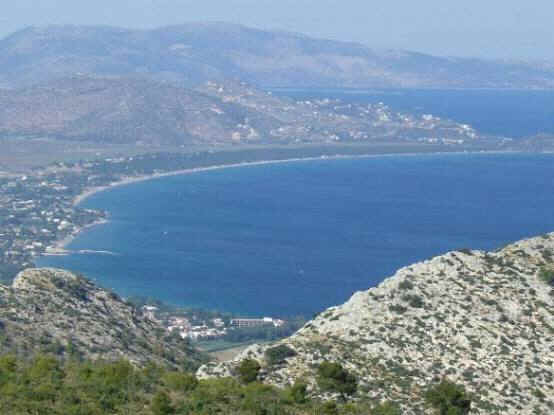 A VIEW OF SCHINIAS BEACH FROM HIGHER UP THE MOUNTAIN
Some views of Schinias beach from closer up ...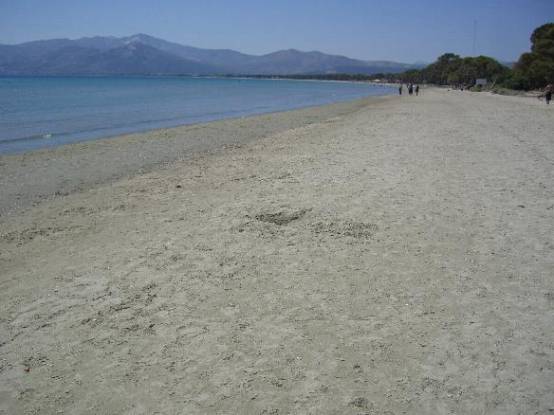 Sadly there are no longer any facilities on the beach and nobody is available to keep the area clean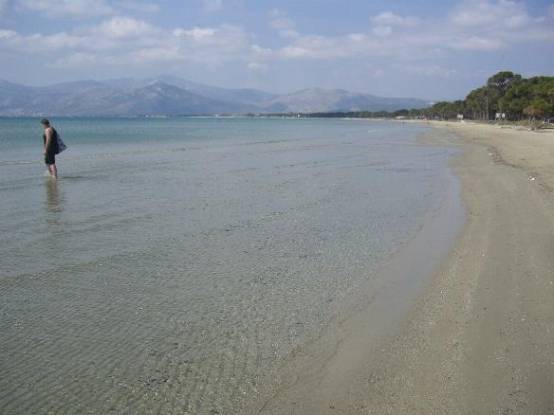 In winter months the wetlands of Schinias National Park, behind the pine forest, have a very impressive range of bird life.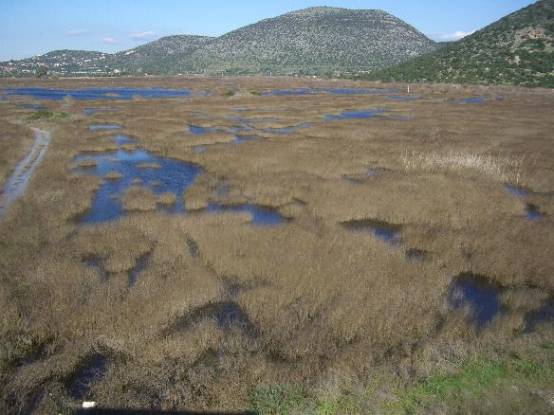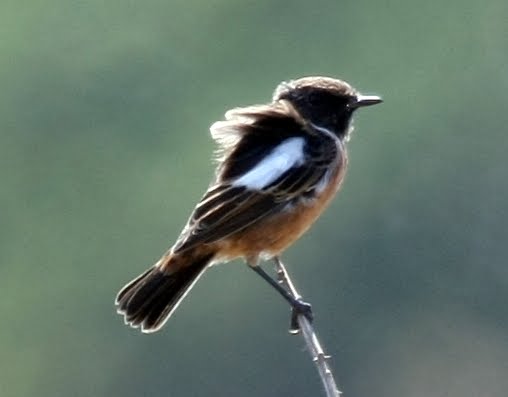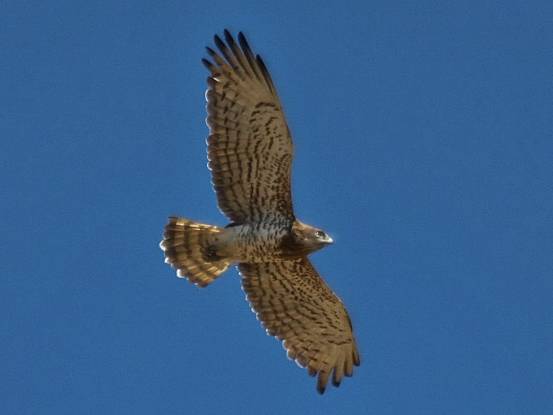 Thanks to Greek birding blogspot for these two photos. They have many more on their site.
Around 20 minutes drive away is the impressive archaeological site of Rhamnous.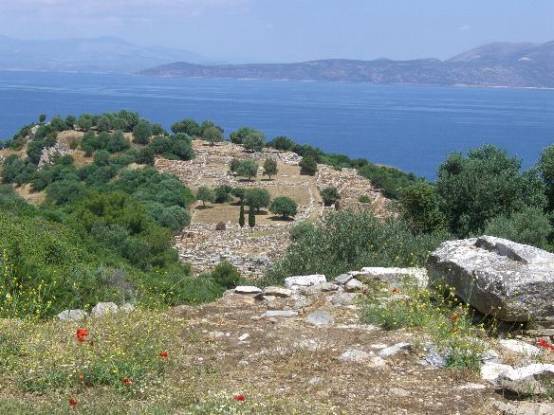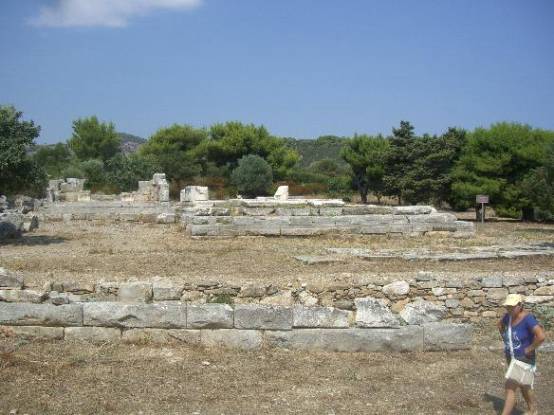 The archaeological museum of Marathon has a very interesting collection of ancient artifacts found in this general area. There are also some partly excavated burial chambers.
A burial mound, said to contain the bodies of 192 Athenian soldiers from the famous 490 BC Battle of Marathon, is around 4 km north of Nea Makri town, near to Marathon Beach.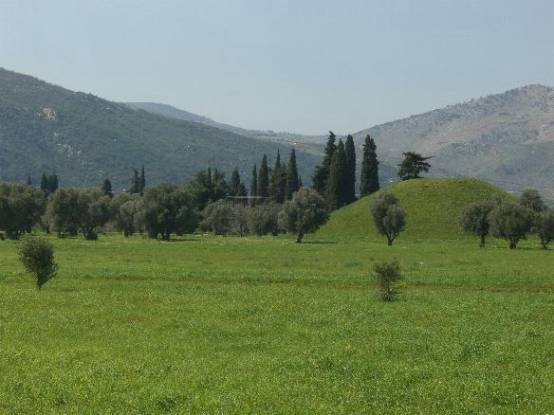 The site includes display boards with descriptions of the battle and an interesting three dimensional model of the area. Absolute Astronomy has some excellent information about the battle and the origins of the marathon run.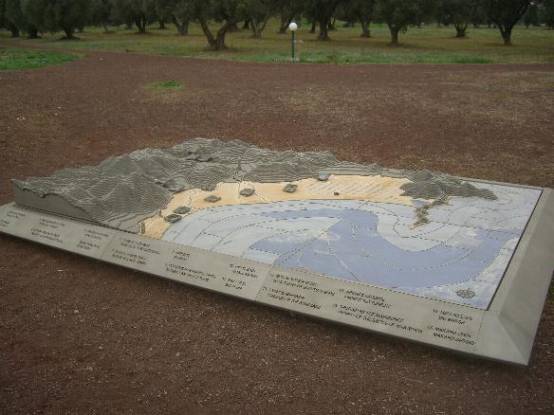 The Sanctuary of the Egyptian Gods archaeological site is on the coast around 1.5 km north of Nea Makri harbour. The original statues that were excavated on the site are on display at the Marathon Archaeological Museum.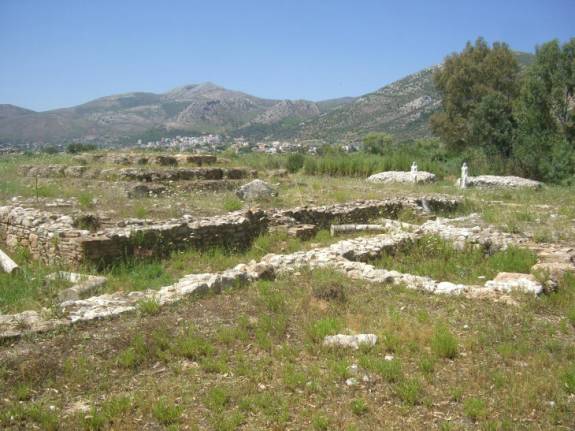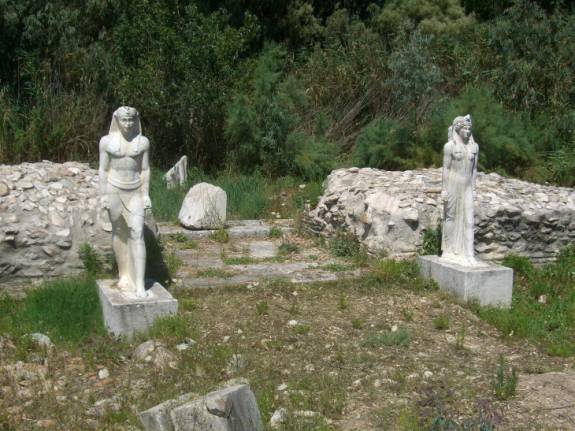 Marathon town, accessible by bus from Nea Makri, has little of interest except the Marathon Run Museum.
Nea Makri is around a quarter of the way along the Athens Classic Marathon route. In 2019 the race will take place on Sunday 10th November.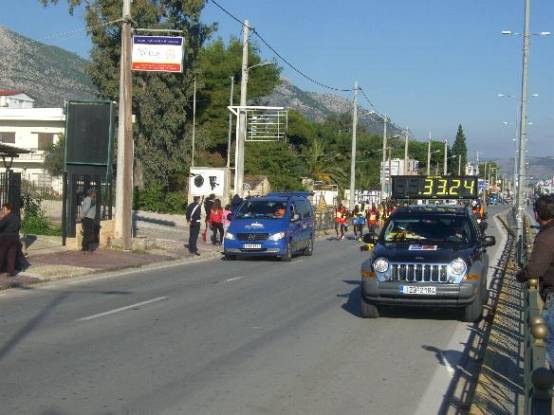 THE 2010 RACE LEADERS APPROACH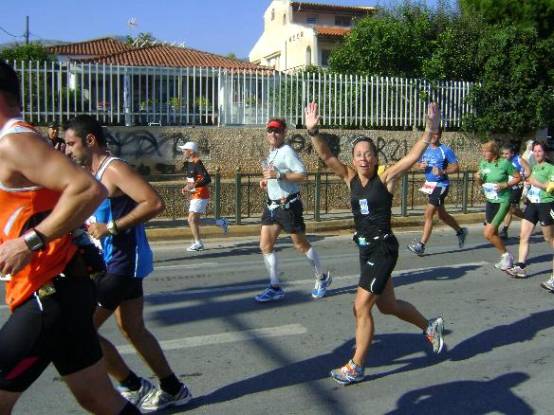 OUR GUESTS NANCY AND STEFAN FROM BELGIUM ONLY HAVE 32 KM TO GO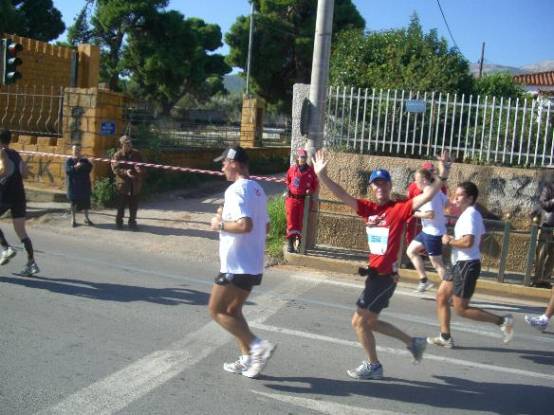 THEIR FRIEND AND NOW OURS, JAN, FOLLOWED IN THEIR FOOTSTEPS IN 2011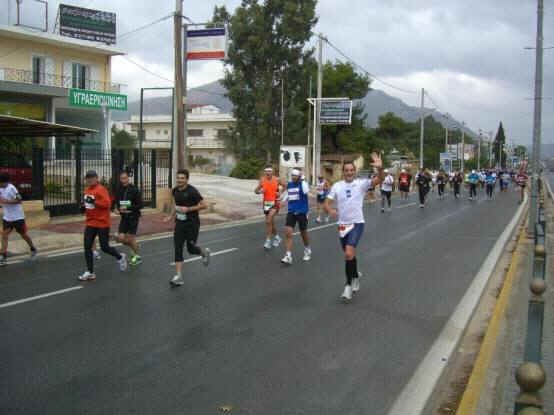 Marathon Lake with its marble dam is a few kilometres north west of Marathon town.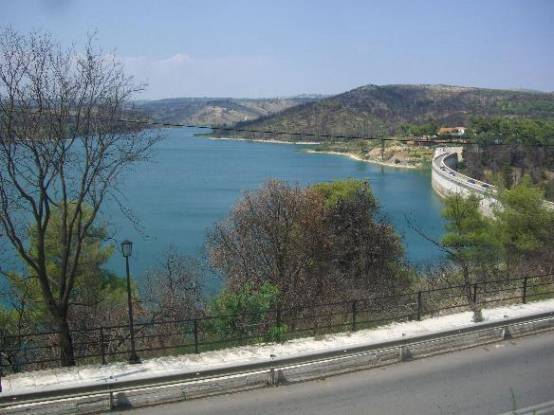 The fascinating and very famous Monastery of Saint Ephraim is around 2 km west of Nea Makri town centre. It is a working convent, accessible to the public between 07.00 and 12.00 and between 16.00 and 1800 daily.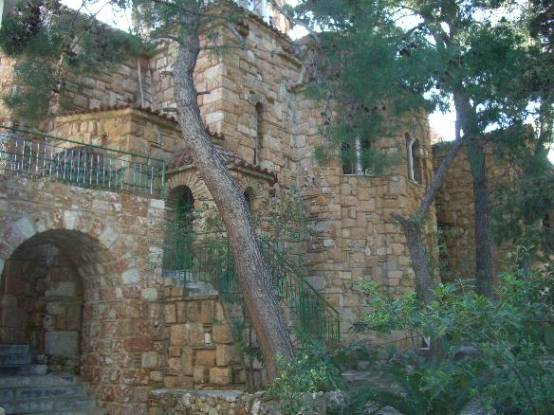 It is reportedly one of the oldest in the Attica region. In 1426 a group of Turkish barbarians attacked the monastery and killed, amongst others, St Ephraim whose alleged remains are on display. The mulberry tree on which he was believed to have been hanged is also on view.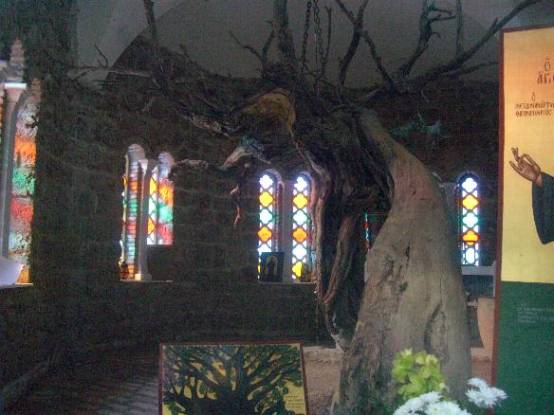 Across the bay from Nea Makri is the very large island of Evia, joined to the mainland by a bridge around 80 km (50 miles) to the north. There is a local ferry crossing to Evia from the village of Agia Marina, a few kilometres behind Schinias. The crossing takes around 45 minutes and Agia Marina port is served by bus from Nea Makri, so this is an easy and very enjoyable day trip.
The island of Andros is a two hour ferry trip from the port of Rafina and again is another possible day trip. We can normally get our guests to and from Rafina by car.
The island of Aegina can also be visited in a day. It is 40 minutes by hydrofoil or just over an hour by ferry from the main port of Piraeus, itself easily reached by bus and metro from Nea Makri.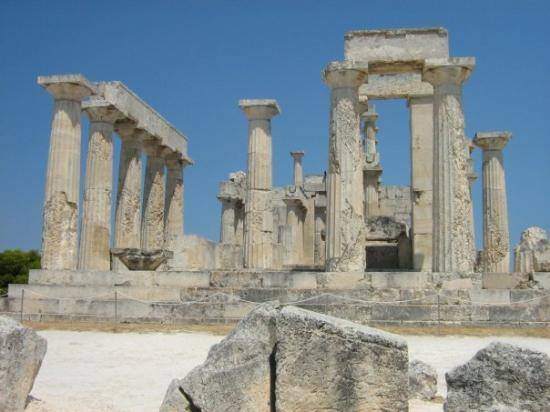 As well as enjoying the port town, you can use buses or taxis to see the Temple of Aphaia, the famous monastery of Saint Nektarios, have a swim at the village of Agia Marina, and enjoy a fresh fish lunch in the village of Perdika.
Attica Zoo is around 20 minutes drive from Nea Makri.
Many famous archaeological sites can be reached by car within a day, including Delphi, Thermopylae, ancient Corinth, ancient Nemea, Mycenae, Tiryns, Epidavros, Elefsina (Eleusis), Sounio and Vravrona (Brauron).
Don't miss the canal if you pass through Corinth. Make sure you see both the high bridge for canal views and the low bridge at Isthmus that goes down to let ships pass over it. Please see this local map for details.
For a day trip to Delphi, please see this map and these directions.
For a day or two in the Northeast Peloponnese, please see this map and these details.
Trips to ancient Olympia, the mountain monasteries of Meteora, or islands other than Evia, Andros and Aegina all require overnight stays.
In the winter, ski resorts at Parnassos near Delphi and Kalavrita in the northern Peloponnese can be visited within a day but overnight stays will make visits more relaxing and enjoyable. Good snow conditions in Greece are not guaranteed at any time so there's an element of luck for visitors unless they book at the last minute. Current conditions can be found at SnowReport.gr.