Heating and Cooling Systems
Villa Verde is heated and cooled using geothermal energy. Essentially we borrow underground water, put it through a heat exchanger, then return it below ground.
Underground water has a near constant temperature all year round, in our case around 18.5 degrees Celsius or 65 degrees Fahrenheit. In the winter that's not far short of the comfort temperature of 21 or 22 degrees C that we are trying to achieve around the house and it has huge cooling potential through the hot Greek summer.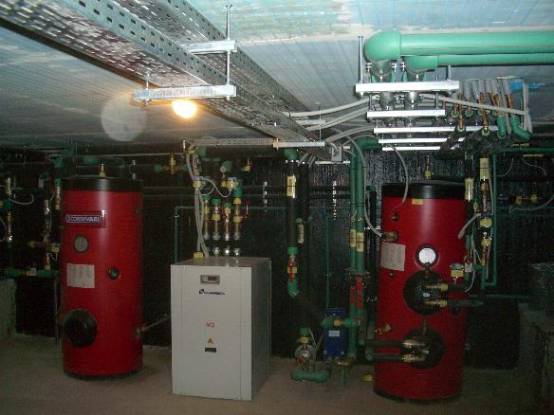 An electric pump at the bottom of a borehole around 18.5 metres (60 feet) deep, sends water on demand to a heat exchanger. In the winter, a heat pump sends chilled water through the other side of the heat exchanger and extracts heat from the outside water. The outside water is returned underground via a second borehole.
The highly efficient heat pump uses a relatively small amount of electricity to bring the water temperature up to around 38 degrees C. That water circulates through an underfloor heating system in those parts of the house in which we live. Our guest rooms are less often occupied through the winter and they are heated using fan coil units, essentially air blowers whose primary source of energy is hot water sent by the heating system.
In the summer, the relatively cold outside water extracts heat through the heat exchanger. Water for the underfloor system is cooled to around 19 degrees C. The floor cannot be cooled any further without the risk of condensation so fan coil units provide additional cooling.
All in all, relatively small amounts of electricity are used for heating, cooling, and pumping water but the majority of our energy needs are met by geothermal means, truly a renewable energy source.
Water for personal use is heated primarily with around 7 square metres (75 square feet) of solar panels on our roof. If there is no sun, the heating system can feed geothermal energy to the water heater as well.
Throughout the summer, solar power alone provides almost unlimited hot water all day long.